Good morning, Red River Valley!
Increasing winds and clouds, followed by increasing chances for rain this afternoon will be the theme today. An upper level low pressure system from the Mexican high terrain is expected to move across the Four Corners region later this afternoon, according to the National Weather Service. That should leave most of North and Central Texas rain free.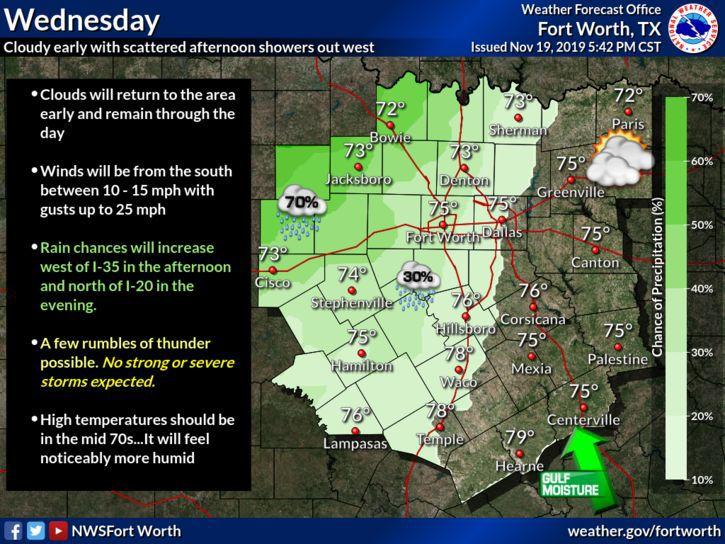 The high is expected to be about 74 as south southeast winds pick up to 10 to 15 mph and increase to 15 to 20 mph in the afternoon. Winds could gust as high as 30 mph. The National Weather Service has issued a Lake Wind Advisory for parts of Red River County, including Clarksville, in effect from 9 a.m. to 6 p.m. 
Rain chances enter the mix tonight, up to 60%, rising to as high as 90% by Thursday morning. The night should be cloudy with a low around 60 as south winds continue to blow at around 15 mph and gust as high as 25. Given a lack of instability, severe weather threat is low. 
Storms remain likely into Thursday and Friday before rain chances fall away for a sunny weekend. Thursday's high will be near 72 before falling to around 51 overnight. Shower chances remain high, about 80%, Friday morning as a cold front limits the high to around 54. 
Don't let the threat of rain spoil your day. Have a great Wednesday!