UPDATE, 8:54 p.m.: The Tornado Watch has been trimmed to our east and southeast counties, and now goes through midnight.
________
UPDATE, 8:35 p.m.: The National Weather Service has issued a flash flood warning for northwestern Red River County, including Detroit, Clarksville, Bogata, Talco and Woodland. The warning is in effect until 11:30 p.m.
At 8:31 p.m., Doppler radar indicated thunderstorms producing heavy rain across the warned area. Up to two inches of rain have already fallen. Flash flooding is ongoing or expected to begin shortly, the NWS warned. Additional rainfall amounts of 2 inches are possible in the warned area.
Flooding of small creeks and streams, urban areas, highways, streets and underpasses as well as other drainage and low lying areas.
____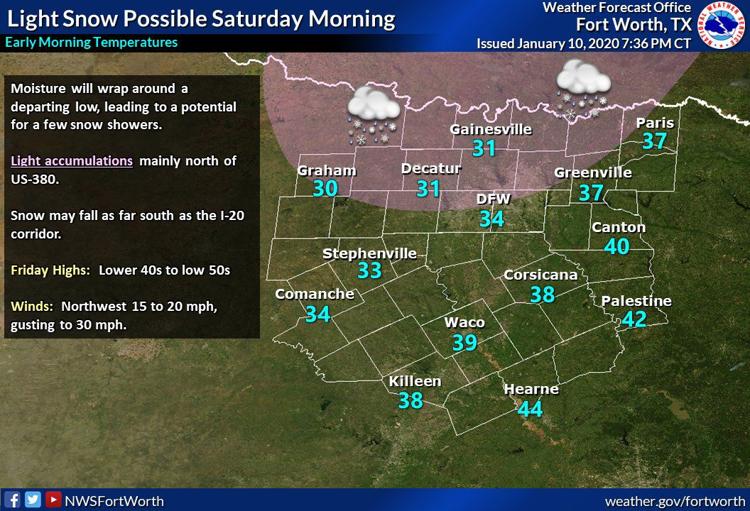 UPDATE, 8 p.m.: The Red River Valley is now positioned in the western most edge of the severe weather and tornado risk zone, according to the National Weather Service. And we're still awaiting the arrival of the main show (between now and 10 p.m.) — the squall line storms, in which "occasional rotating updrafts continue to periodically evolve and then diminish, temporarily enhancing severe risk as the spin-ups reach peak intensity," the Storm Prediction Center wrote in forecast discussion.
But we can't forget that right behind that will be some downright chilly air. The region spent the day with a temperature at or near 72 degrees, but in the wake of the line of storms temperatures will fall fast to around 37. Saturday's high is forecast at 40, although it will also fall throughout the day to the overnight low of 27.
_______
UPDATE, 7:30 p.m.: All tornado warnings for our region have been allowed to expire or have been cancelled.
_____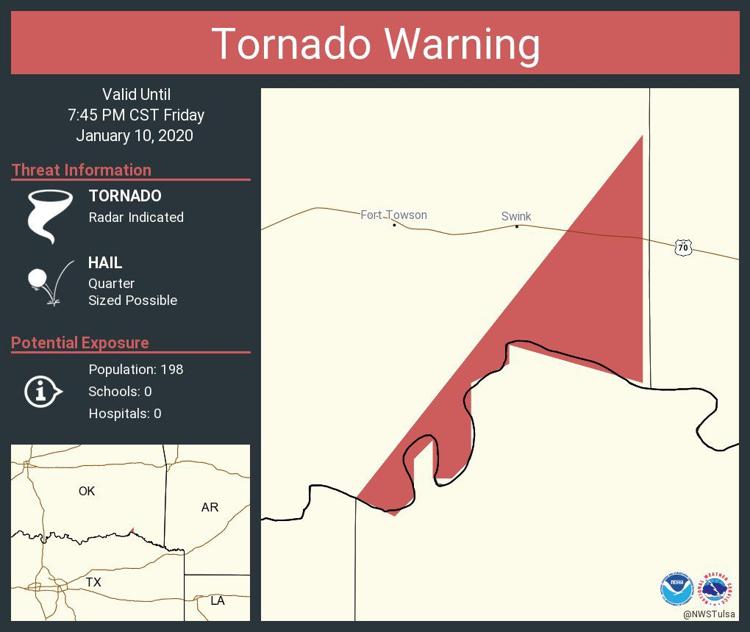 UPDATE, 7:10 p.m.: For southeastern Choctaw County, until 7:45 p.m., there is a tornado warning. 
At 7:08 p.m., a severe thunderstorm capable of producing a tornado was located 6 miles northwest of Manchester, moving northeast at 60 mph.
SEEK SHELTER NOW! 
Move to a basement or an interior room on the lowest floor of a sturdy building. Avoid windows. If you are outdoors, in a mobile home, or in a vehicle, move to the closest substantial shelter and protect yourself from flying debris.
______
UPDATE, 7:08 p.m.: For Woodland and the northwestern corner of Red River County, this is now a tornado warning, in effect until 7:30 p.m. SEEK SHELTER NOW!
At 7:06 p.m., a severe thunderstorm capable of producing a tornado was located near Manchester, or 17 miles southeast of Hugo, moving northeast at 40 mph.
____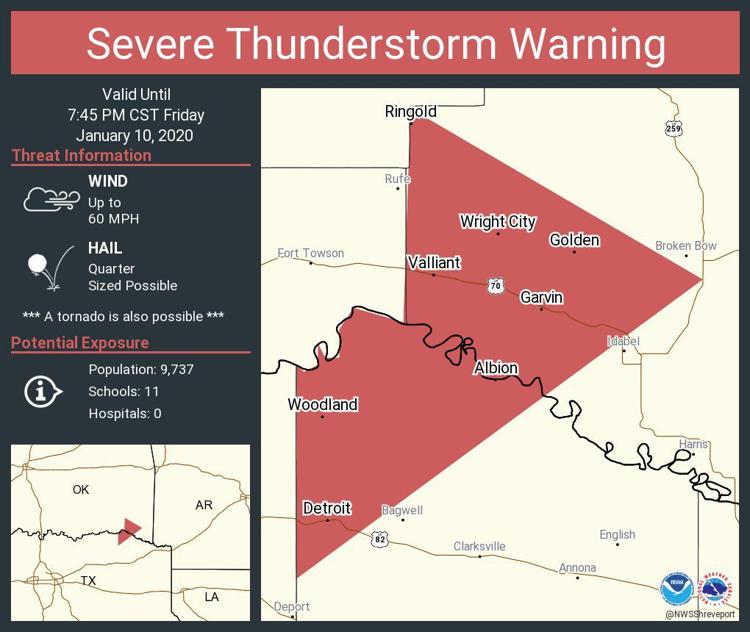 UPDATE, 7:02 p.m.: A severe thunderstorm warning is issued for northwestern Red River County, including Detroit.
At 6:57 p.m., a severe thunderstorm was located 10 miles west of Manchester, or 15 miles northeast of Paris, moving northeast at 45 mph.
Hazards include 60 mph winds gusts and quarter size hail.
____
UPDATE, 6:54 p.m.: We are definitely seeing the heavy rain that was forecast. We have reports of two homes damaged in Cooper, which had been under a tornado warning a half hour ago.
_____
UPDATE, 6:31 p.m.: The tornado warning is cancelled.
_____
UPDATE, 6:07 p.m.: The National Weather Service has issued a TORNADO WARNING for Delta County and Southeastern Lamar County until 6:45 p.m.  This affects Cooper, Deport, Pattonville and Sulphur Bluff. Seek Shelter Now!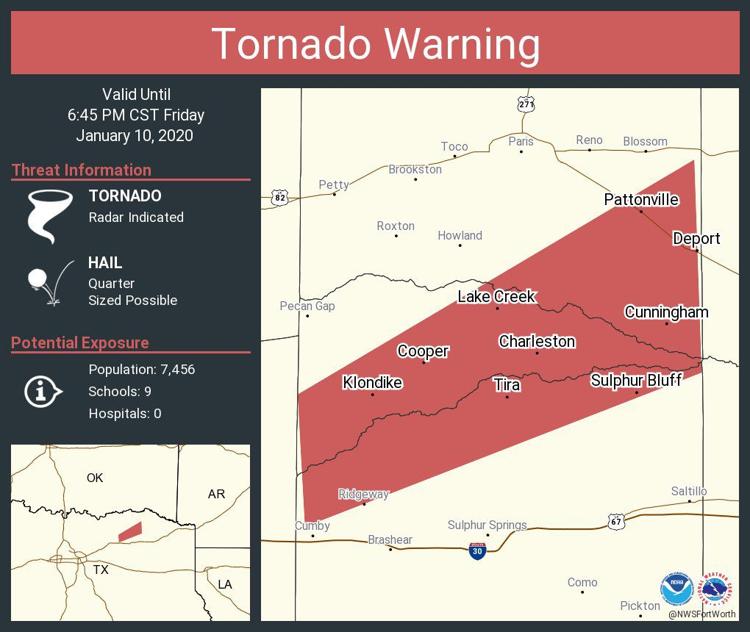 _____
UPDATE, 5:35 p.m.: Red River County is now under a tornado watch, in effect until 2 a.m.
____
UPDATE: 5:05 p.m.: The risk for severe weather, including the chance for tornadoes, remains over the Red River Valley.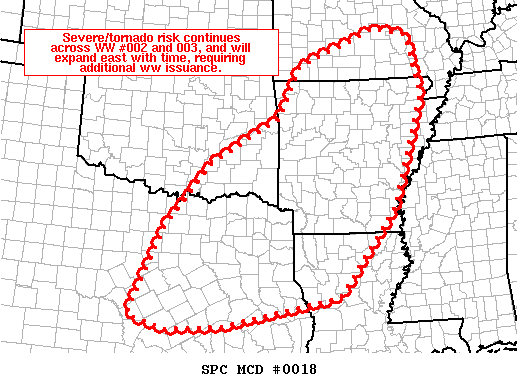 The Storm Prediction Center says a warm, moist and unstable, but slightly capped, warm sector is ahead of the incoming squall line. 
"Storms have been slow to organize across this area ahead of the frontal band of cells, but — aided by a very favorably-sheared environment — a recent supercell has evolved in the Corsicana vicinity, which remains capable of producing severe weather including tornado potential," the discussion states.
"With time, the frontal band of storms will continue moving eastward, posing mainly a damaging wind risk, though with some tornado potential with embedded rotating updrafts within the band. Ahead of the line, warm-sector storms are forecast to gradually increase in coverage/organization — and these more isolated cells will likely be accompanied by greater risk for tornadoes, in addition to wind-damage potential," the Storm Prediction Center stated.
"As this risk evolves over the next couple of hours, and as bowing storms farther north continue to advance northeastward, convection/severe risk will begin to impinge on eastern fringes of" the outlined area," the discussion states.
_____
UPDATE 4:05 p.m.: Don't let the fact the sun came out fool you — we don't want to see the sun as that could further destabilize the atmosphere.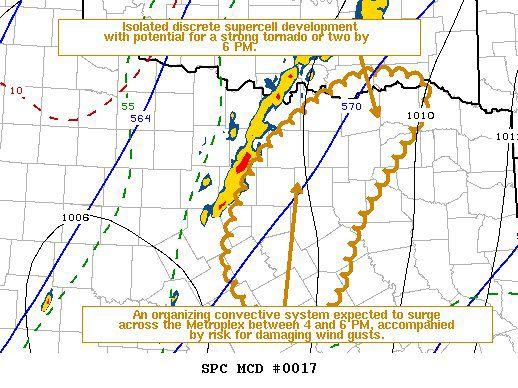 If you're asking "Where's the storms?" here's your answer: We've been fortunate not to see any so far, and we hope to remain fortunate ahead of the coming squall line storm.
Our area will have maximum potential for isolated discrete supercell tornado activity around 6 p.m., and the squall line will come after that. Right now, it's just eyes on the radar hoping no storms spring up ahead of the line.
_______
UPDATE, 3:20 p.m.: The first tornado warnings of the day have been issued northwest of Fort Worth for storms with rotation in the upper levels. There's been no confirmed touchdowns.
The latest guidance from the Storm Prediction Center suggests any isolated discrete supercell development around Fannin and Lamar counties by 6 p.m. — that's ahead of when the squall line is expected to arrive — will have the potential for a strong tornado or two.
Damaging winds gusts are the primary threat forecast today, and those winds will arrive with the squall line after the sun has set.
____
UPDATE, 1:55 p.m.: The latest discussion from NOAA's Storm Prediction Center suggests that supercell tornado risk may become maximized near Paris (see graphic) between 4 and 6 p.m.
"Potential for more discrete supercells, which could pose a risk for a strong tornado or two, may become maximized near Paris TX, and surrounding areas of southeast Oklahoma/northeast Texas," the discussion states.
As of now, thunderstorm development has become widespread in areas west of the Red River Valley. Storm cells that form in front of the expected squall line will have the greatest potential for tornado and large hail threats, whereas the threats associated with the line will be dangerous straight line winds of 70 mph or higher and embedded tornadoes.
Meteorologists warn that embedded tornadoes may spin up quickly, and they advise residents to have their emergency gear and plan in place and to keep a weather radio active.
A tornado watch is active for Lamar, Fannin, Delta and Choctaw counties until later tonight. A flash flood watch is in effect through early Saturday for all counties.
_____
UPDATE, 1:20 p.m.: A tornado watch has been issued for parts of Texas until 9 p.m.
___
UPDATE, 11:35 a.m.: Early dismissal updates: Due to weather, several school districts will be releasing students early today. Chisum will dismiss at 1:15 p.m. North Lamar and Prairiland ISD will dismiss at 2:30 p.m. Detroit ISD, Clarksville ISD, Rivercrest ISD and Trinity Christian pre-school will release at 2 p.m.
Paris ISD Early Dismissal: Head Start/Givens, 1 p.m., Aikin/Justiss, 1:45 p.m., CIS, 1:55 p.m., Paris Junior High, 2:05 p.m., Paris High, 2:20 p.m., Travis, 1:20 p.m., DAEP, 2:20 p.m.
____
UPDATE 10:49 a.m.: A Tornado Watch is in effect for Choctaw County from 10:40 a.m. until 6 p.m.
____
UPDATE, 10:35 a.m.: Due to the potential threat of severe weather to our area later today, North Lamar ISD will be releasing school at 2:30 p.m. "The safety of our students and staff are our main concern.  All extra-curricular activities have been cancelled after school," officials said.
_____
UPDATE, 8:23 a.m.: Due to the forecast of severe weather, the North Lamar Panther basketball game against Van and all after school practices have been cancelled. The girls basketball game against Pleasant Grove will be played Saturday at 3:00 p.m. in Pleasant Grove. The soccer tournament today at Paris remains as scheduled until further notice.
____
Good morning, Red River Valley!
Charge your phones, get your emergency supplies ready, turn on a weather radio and batten down the hatches — forecasters are warning of potentially volatile weather today that may include large hail, tornadoes, straight line winds and heavy rain.
"Residents and visitors will need to be extra vigilant, as many people may not think about severe weather in January," AccuWeather Meteorologist Ryan Adamson said.
Area heating, an incoming low followed by a cold front, and plenty of instability in the atmosphere will combine to create hazardous weather conditions for a large portion of East Texas, Louisiana, Oklahoma and Arkansas. This morning will be warm and potentially wet, with the high today quickly reaching 70 degrees under a cloudy sky. It's this afternoon and evening that's the most concerning as models show the formation of a dangerous squall line.
"Embedded tornadoes will be possible within the squall line. Remember that these would be very fast moving and may develop with little or no advanced warning," National Weather Service meteorologist Jennifer Dunn wrote in forecast discussion. "There is a threat for discrete supercells capable of large hail and tornadoes mainly this afternoon. This threat will depend upon how much clearing (if any) we see and whether or not dewpoints can climb into the upper 60s to near 70 degrees. This would substantially increase low level instability and increase the tornado threat given the shear profile."
Later in the afternoon, around 4 p.m., a cold front is expected to begin pushing east from west of Fannin County. Forecast to arrive here between 5 and 9 p.m., it will have enough fuel to form a line of storms that will threaten damaging straight line winds and "some brief spin-up tornadoes," NWS meteorologist Jason Godwin warned.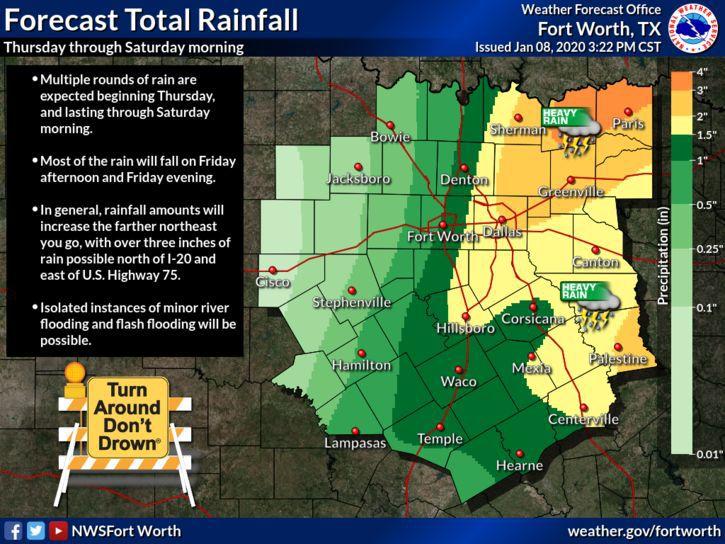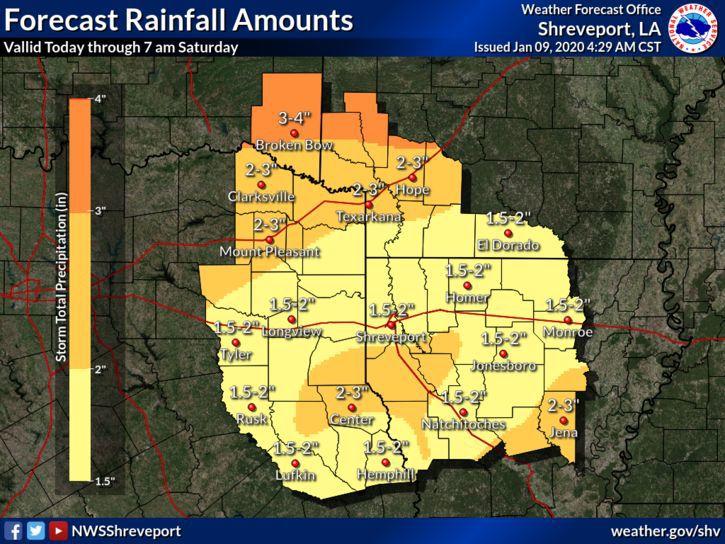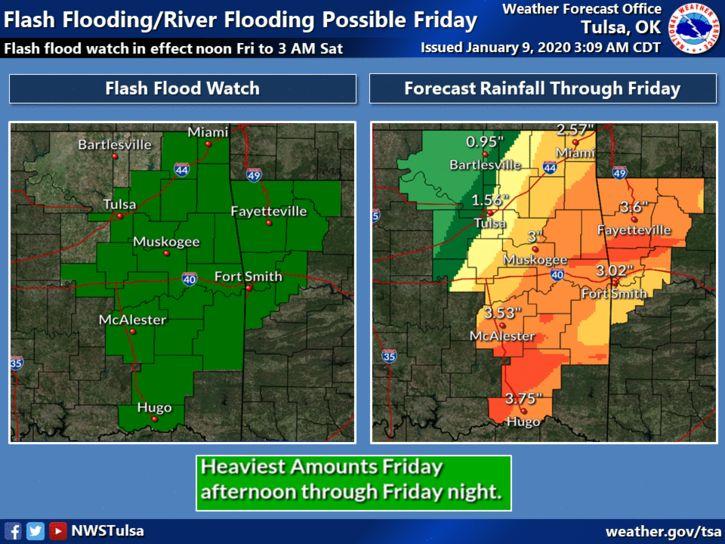 "Not to be forgotten will be the threat for heavy rainfall. The axis of highest rain (2 to 4 inches) is expected to be from the (Dallas-Fort Worth) area and points northeast where the line will have its slowest initial motion," Godwin wrote.
Flash flood watches issued by the National Weather Service on Thursday for Lamar, Fannin, Delta and Choctaw counties are in effect from noon today until 3 a.m. Saturday. A similar watch for Red River County is in effect from noon through 6 a.m. Saturday. Accuweather warns motorists traveling along stretches of interstates 10, 20, 30, 45 and 49 will be at risk of facing torrential downpours and a heightened risk of hydroplaning.
Once the storms move out of the area and the cold front settles in, temperatures will fall quickly into the 30s. Light precipitation on the backside of the low may become light, patchy snow or a wintry mix. Any accumulations would be confined to grassy areas, rooftops and other elevated surfaces, Godwin wrote.
Saturday's high may reach 37, but will fall throughout the day to the overnight low of 29 degrees. The night will be mostly clear, making way for a mostly sunny Sunday with a high of 54.
The Paris News will post all weather updates to its website, Facebook page and Twitter account, including any watches and warnings, as breaking news alerts.