Good morning, Red River Valley!
We're looking at a potentially rough Veterans Day as the much-anticipated arctic cold blast is on the region's doorstep. The boundary will surge into the region today, dropping the forecast high of 60 by 9 a.m. to around 36 degrees the rest of the day, according to the National Weather Service.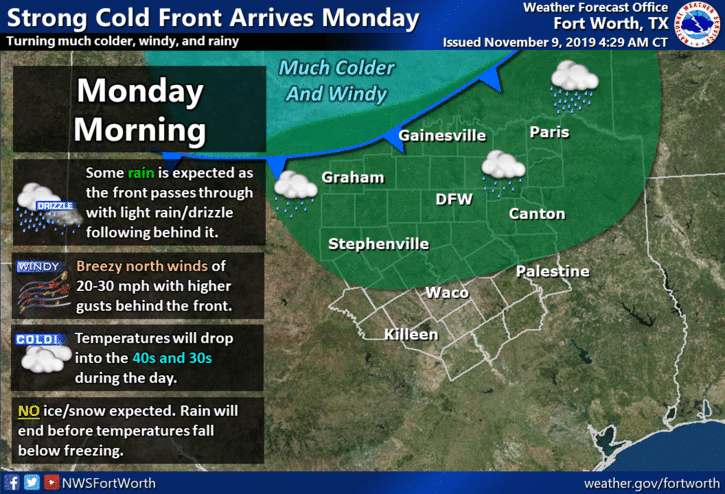 As the front marches into the area, it will be blustery. A Wind Advisory has been issued for Delta, Fannin and Lamar counties, in effect from 10 a.m. today to 6 a.m. Tuesday as winds from the north will be 25 to 35 mph with gusts as high as 45. This will challenge drivers on east to west oriented highways, especially in high-profile vehicles. Red River County is under a Lake Wind Advisory from noon until 6 p.m. as open waters are expected to become choppy. Choctaw County's Wind Advisory is in effect now until 6 tonight. 
An additional word of warning: Wind chill values will drop into the single digits to teens. And if all that weren't challenging enough, there's an 80% chance for rain.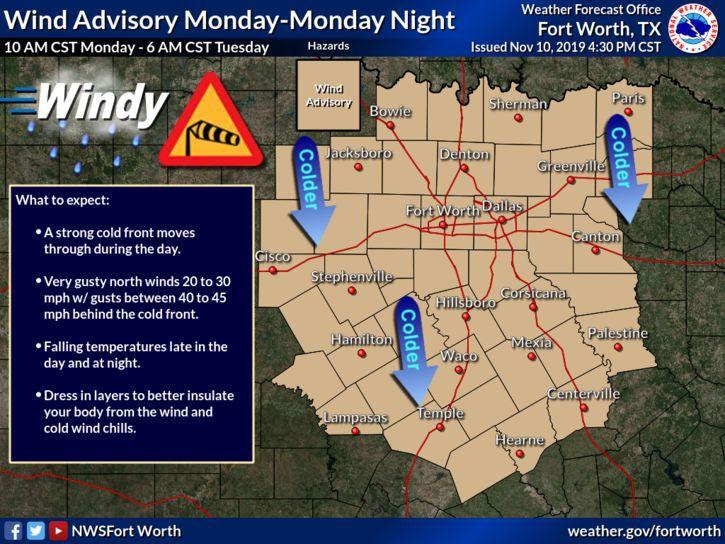 There's a slight chance for wintry mix precipitation this evening, but the bulk of the moisture will be gone. That leaves only about 20% chance of seeing that mix. Still, as temperatures drop into the low 20s overnight, any moisture on the ground is likely to freeze into ice. Expect a cloudy night as the wind continues from the north at 25 to 30 mph with gusts as high as 40. Wind chill values will likely be between 6 and 16 degrees. 
That will lead us into Tuesday, which is expected to be sunny with a high of 42 although wind chill values are not expected to improve as winds still come from the north at up to 15 mph with gusts of up to 20. Tuesday night will return to the low 20s overnight, but winds will finally calm and we should see a return to the 50s for Wednesday. 
Thank a veteran. Be prepared for the weather for any Veterans Day program attendance, and enjoy your Monday!