A 65-year-old female resident of Stillhouse Rehabilitation and Healthcare Center became the 11th Covid-19-related death in Lamar County, raising the total to 11.
There have been 18 deaths in the Red River Valley, including five in Red River County and two in Fannin County, according to the Texas Department of State Health Services.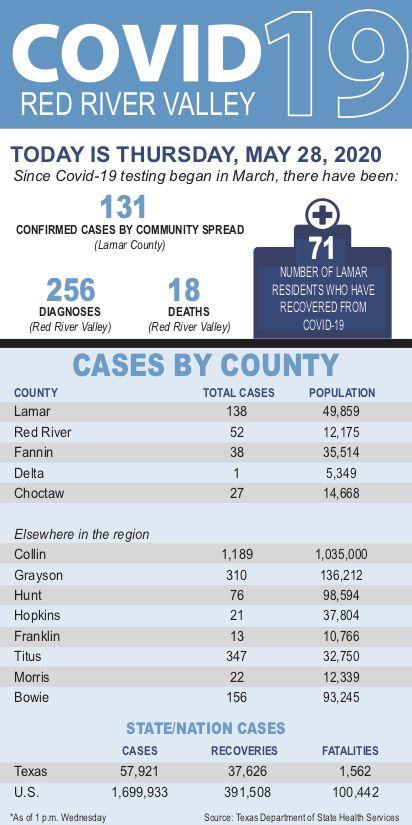 Eight of Lamar County's 11 deaths are associated with Paris Healthcare Center and two are unrelated to nursing facilities, according to the Paris-Lamar County Health District.
Two confirmed cases, an 18-year-old woman and a 44-year-old man, bring the confirmed case count since testing began in March to 138, with seven travel related and 131 community spread cases. Seventy one positives have recovered, according to health district director Gina Prestridge.
By age group, residents age 60 to 69 are the most impacted with 34 cases, followed by residents age 30 to 39 and 40 to 49 with 19 cases in each age group. Close behind are residents age 50 to 59 with 18 cases.
In all but the 80-plus age group, women account for more cases than men, according to the health district's data.
Red River cases rise to 52, Delta steady at 1
Red River County coronavirus cases have increased to 52 confirmed, according to County Judge L.D. Williamson, and about 20 of those are in nursing homes.
Because of the governor's reopening mandates, any previous orders in place have been taken away, he said.
In Delta County, the number of cases has stayed at one.
"And, that person has since recovered," Delta County Emergency Coordinator Tanner Crutcher said. "We're one of the few counties in the area that can say that."
Fannin County reports no new cases
Fannin County's coronavirus case count stabilized at 38, with County Health Authority Dr. James Froelich reporting no new cases on Wednedsay.
Of the county's cases, 22 have been men and 16 have been women. Sixteen cases have Bonham addresses, but that includes five Fannin County Jail inmates and one man in the Clyde Cosper State Veterans Home, Froelich said. There are five cases in the Trenton area, four in Ivanhoe, three in Ector, two in Dodd City, two in Telephone and one case each in Elwood, Ladonia, Ravenna, Savoy and Windom. There is a case with an unknown address, Froelich said.
"All considered, Fannin County has been very fortunate to have so few cases of this deadly and contagious virus. Please remember that the virus has not become any less virulent so continue to be vigilant and wear masks whenever possible in crowded areas or areas where several people have been recently. That is especially important in grocery stores, convenience stores, retailers with large numbers of people passing through and restaurants. Please: Be smart and do your part," Froelich wrote in a public letter.
Choctaw virus cases on the rise
After seemingly endless weeks of stability, Choctaw County is seeing a spike in Covid-19 diagnoses, officials said.
For several weeks, Choctaw County had just three confirmed cases, and while those three have since recovered, during the past two weeks, the number of cases has risen to 27, Sheriff Terry Park reported Wednesday.
Nearly all of the new cases are patients with a Hugo, Oklahoma, address. Three cases reported Wednesday did include a case in Fort Towson, Park said.
The sheriff advises residents to "be careful."