Good morning, Red River Valley!
A deepening low pressure system over the western U.S. is expected to usher in a cold front this afternoon, but not before some compressional warming gets us to about 67 degrees, according to the National Weather Service. 
Models show the front arriving here between noon and 3 p.m. Despite clouds in the sky, the morning should remain dry. Rain chances rise only to 20% after noon as the front arrives, so the only daylong concern will be some high speed winds. Initially coming from the south southwest at 10 to 15 mph, winds will shift as the front rolls through to come from the north northwest in the afternoon. Winds could gust as high as 20 mph.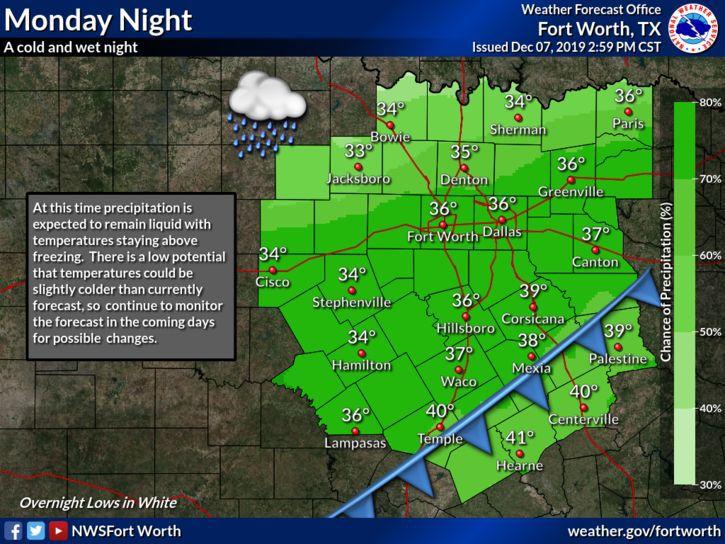 There will be a sharp drop in temps as that colder northern air rushes in behind the front. Although the early part of the day will lack enough moisture for rain, that will change as Pacific moisture follows the front. The National Weather Service is expecting widespread showers around evening and overnight. Winds from the north are expected to pick up to 15 to 20 mph with gusts as high as 25. The chance for rain is 90%. 
Rain remains likely heading into Tuesday, quite possibly mixed with snow as the overnight low falls to 36 and wind chills will make it feel even colder. By 9 a.m. all precipitation is expected to be rain again as the region warms slightly to near 42 degrees. It'll be a cloudy start Tuesday, gradually becoming mostly sunny later in the day as the winds die down. 
We'll spend the remainder of the week warming back up to the low 60s, according to the long-term forecast.
Plan accordingly, then stay warm when the cold comes. Have a great Monday!