Good morning, Red River Valley!
"Pleasant and tranquil weather will continue through (Tuesday) with above normal temperatures," wrote National Weather Service meteorologist Matthew Stalley in forecast discussion. Although a surface low fell across the region last night, Stalley predicts it will have little effect on the weather, except to shift the winds a bit.
Today will be sunny with a high near 73 as winds come from the south southeast at around 5 mph in the afternoon. Tonight will be mostly clear with a low around 51. 
With strong southerly flow in place as the high pressure center shifts to the east and a low pressure storm system over southwestern Colorado increases, clouds will develop overnight and make their way through North Texas by daybreak Wednesday, according to the National Weather Service. As a result, there will be a 20% chance of showers and thunderstorms after noon as clouds continue to increase. The high is expected to be about 72 as south winds pick up to 10 to 15 mph with gusts as high as 20.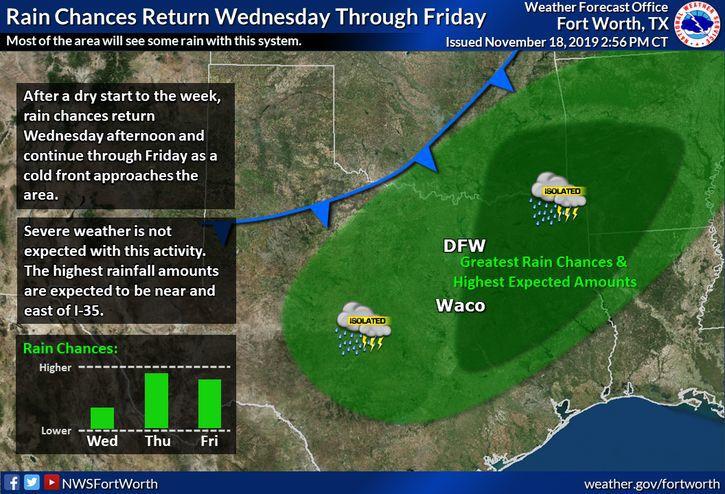 Showers and thunderstorms are likely - a 60% chance - before midnight Wednesday as the low falls only to about 61. Storms remain likely into Thursday and Friday before rain chances fall away for a sunny weekend.
Today may be the last chance for a couple of days to enjoy the outdoors. Regardless of your plans, have a great Tuesday!