Today is National Law Enforcement Appreciation Day, and here, in their own words, is why local officers serve.
"There are practical and helpful reasons to become a deputy sheriff. The job can be rewarding and fun for many reasons. There are good opportunities for good pay, benefits, a chance to serve the public, protect your community, and make a difference in people's lives," said Sgt. Keith Draper with the Lamar County Sheriff's Office
"I have been fascinated with law enforcement since I was little. I have been involved with local law enforcement since I was 16 years old, when I was one of the five original Law Enforcement Explorer Boy Scouts with the Paris Police Department, then being hired at 21 by the Lamar County Sheriff's Department. Then taking office as constable in 2017. This is my way of making our community a better place," Precinct 3 Constable Steve Hill said. "In the world we live in, we only hear the negativity towards law enforcement in the mainstream media. Any positive thing that I can do in my position to better the relationship between law enforcement and younger children will benefit all of the officers that they come in contact with throughout their life."
"I grew up in a culture where being involved with law enforcement was/is frowned upon. I also remember times as a young adult being treated unfairly or different at times by law enforcement due to how I look. So to answer the question 'why I serve': I serve to be the difference. I serve to show it doesn't matter who you are, what you look like, or where you come from, you can be a positive impact in society. You don't have to be what people label you to be. You can be the difference," said Officer Chris Palmore with the Chisum ISD Police Department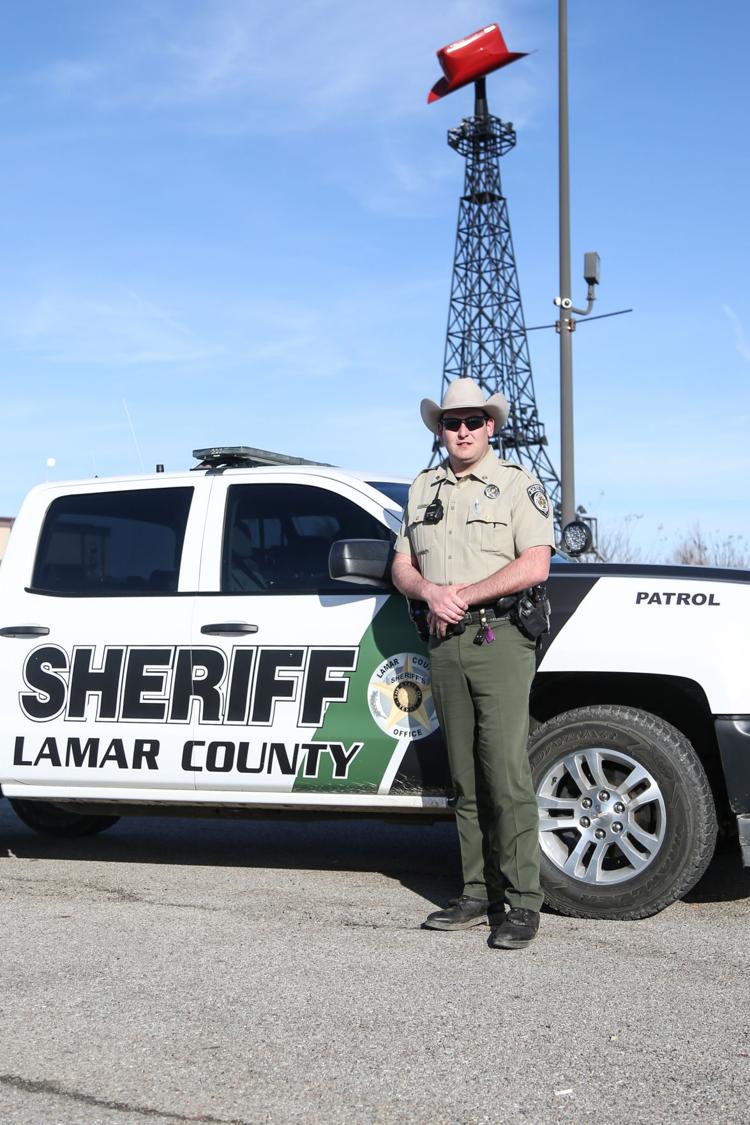 "My family has always been a part of some sort of service organization to the community, mostly in the fire service. I decided to take the police path. I serve to help those who cannot help themselves. I do not do it for glory or money or fame. I do it because it is simply in my nature to help people," said Deputy Tyler Bussell with Lamar County Sheriff's Office.
"When I was much younger, I had no idea what a calling was. My life of service began in October of 1983 when I joined the U.S. Marines. I returned to Lamar County after Operation Desert Storm and had no idea what I was going to do with my life. That was when I realized I wasn't looking for a job. I was looking for an opportunity to serve," said Capt. Joel Chipman with the sheriff's office. "In 1992, I was fortunate enough to be accepted by the City of Paris Police Department. I learned a great deal and made a lot of friends but, most of all, I was given many opportunities to help people in my community. After retiring from the Paris Police Department, I was given another opportunity to serve at the Lamar County Sheriff's Office. I tried the private sector for a short time and was drawn back to law enforcement by my 'calling.'
"My duties have been varied and many, and now, my most important task is making sure young officers are properly trained and equipped. God has blessed me in many ways and I hope that, in my years of service, I have done or will do something to make someone else's life a little better," he added.
"I always wanted to be a police officer because I wanted to help people that could not help themselves. The motivation that keeps me going is my family," said Paris Police Department's Sgt. Billy Pillars.
"I wanted to be of service to my community and be a part of something bigger than myself," said Lt. Mark Bender with the Paris Police Department.