Happy Valentine's Day, Red River Valley!
How's some sun on this day to celebrate love? Sunny skies are in the forecast along with a high of 47 - warmer than yesterday, but still a bit chilly. That's thanks to northeast winds, which should become southeast winds this afternoon.
With some warmer and wetter air flowing back in, tonight will be mostly clear with a low around 33. Saturday will really ratchet up the temperature - to about 57 degrees - under mostly sunny skies.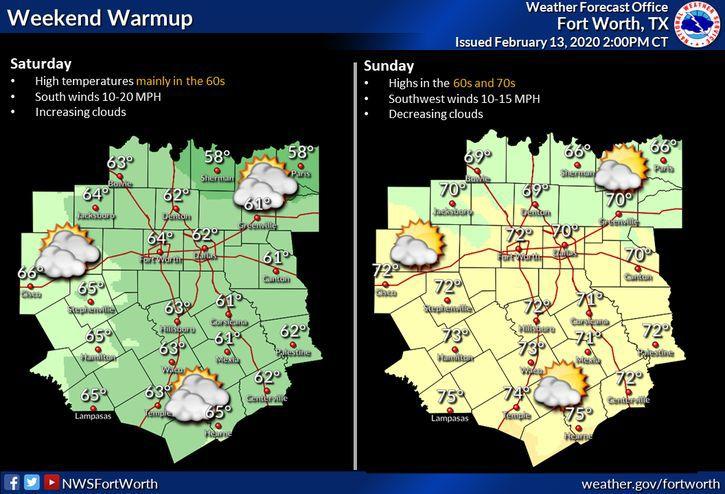 Saturday night will be just about as warm as today as the low is expected to fall only to 46. Sunday will get us to near 65 degrees under partly sunny skies, with the overnight low falling to 53.
Monday could see the mercury rise above 70 degrees to finish off this warm period. That will be ahead of a cold front that will knock more than 20 degrees off daytime highs next week, the National Weather Service forecasts.
"A weak disturbance will traverse the area on Monday and could bring a couple of showers and isolated thunderstorms to far east and south counties," meteorologist Sarah Barnes wrote in forecast discussion. "The next strong cold front is expected to enter northwest portions of the (area) during the early morning hours on Tuesday and exit Central Texas counties by Tuesday evening. Any precipitation along the front will be fighting drier air. However, precipitation could be possible if lift along the front is able to align with a moist region."
The rain is days away, so don't worry about it. Enjoy your sunny Valentine's Day!