It's just a couple of signatures away.
Site preparation work for Pump Track Paris is expected to begin next month after Paris City Council signs off on a grant agreement at a Dec. 9 meeting and sends it on its way to Texas Parks and Wildlife.
Funding for the $680,000 bicycle pump track comes with a 50/50 state match using federal funds, according to City Engineer Carla Eastman. Texas Parks and Wildlife will contribute $340,000, the city $100,000 from 2017 bond money, the Chamber's Visitors and Convention Council $50,000 and the rest from private funds and in-kind donations.
To be located north of the pavilion at Love Civic Center, the track idea began as part of a smaller project in the city's updated park plan, which was approved in May 2018. Interest in the facility grew quickly, as did funding for the project with more than $190,000 in private money pledged, according to an April 10 article in The Paris News.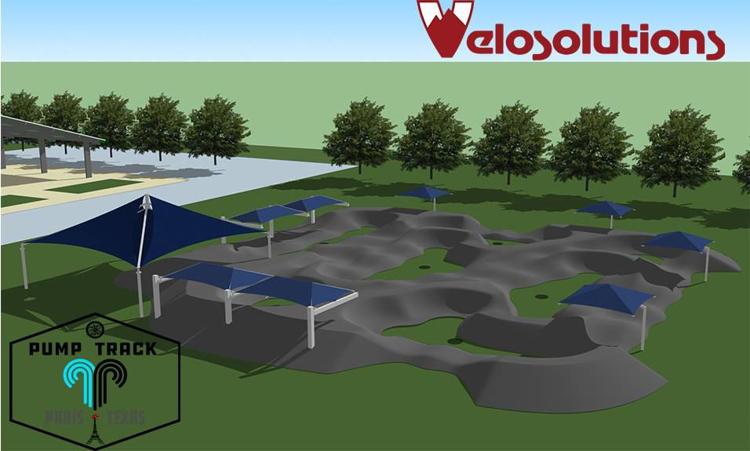 Pump track enthusiasts hope the track attracts big ticket cycling events as well as provides a venue for family cycling.
The track has caught the eye of Red Bull, which partners with track builders Velosolutions for either the energy drink company's Pump Track World Championships or one of its national qualifying events, according a report Lamar County Chamber of Commerce President Paul Allen gave City Council in July.
Pump track spokesperson Casey Ressler said much needs to be accomplished before Velosolutions comes to install the track, hopefully in early spring.
"We are coordinating with the building contractor to make sure our timelines are in line because there is a lot we have to do before they get here," Ressler said, explaining site preparation work will include soil stabilization. "When they put the asphalt track in, temperatures need to be above 50 degrees so we have to think about that."
Ressler said he has known the money was coming since the city received notification in April after first being told in March that Paris had missed out by a few points.
"We didn't actually get the grant we applied for," Ressler said. "Instead we got another grant with federal money. Although we've known the money was coming, it's nice to see if official so we can start moving forward."