As people work to stay healthy amid the coronavirus pandemic, sanitation has risen to the forefront of many people's minds. When being mindful of how to stay clear of germs though, there are several dirty surfaces that many people don't often consider.
"Anything that gets touched routinely and by a lot of different people are going to (carry germs)," said Dr. Jack Brown, a biology professor at Paris Junior College. "Any place you go, like a restaurant or store, is going to see this a lot."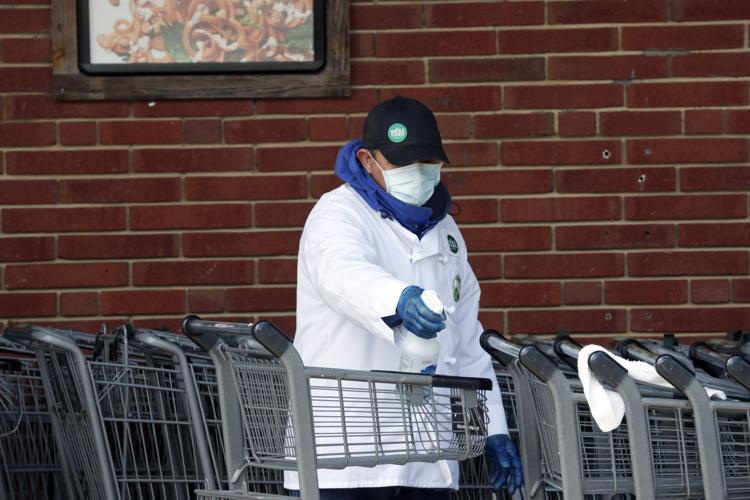 Notorious for spreading germs and bacteria, Brown said, are door handles and shopping carts, as they're used almost incessantly throughout the day. However, those don't retain germs for as long as many other things do because of their relatively small surface area and metal surfaces.
"Children's toys and stuffed animals are absolutely notorious for spreading all kinds of things, not just the virus," Brown said.
Brown also said many people don't realize just how many things people get their fingers on when out shopping. In addition to carts, shelving and freezer handles are often rife with germs, as is the food itself.
"A lot of hands can get on the fruit," Brown said. "People tend to pick stuff up and squeeze it. They'll check out an avocado or orange and put it back."
But that doesn't mean you need to disinfect your fruit. In fact, doing so may be dangerous, according to Erin DiCaprio at the University of California.
"Chemicals and soaps are not labeled for use on food. This means we do not know if they are safe or even effective when directly applied to food," DiCaprio told The Conversation.
Think about how often a surface is touched, and then decide if you can avoid the riskiest spots or use hand sanitizer after touching them. Significantly more people touch door handles and credit card machines compared to a tomato in a bin, she said.
Outside of grocery stores, there are still a number of places people don't often consider when trying to stay germ-free.
Keyboards, elevator buttons, handrails and water fountains are just some of the predominant carriers of bacteria and viruses that might not immediately come to people's minds, Brown said.
"Anything communal is pretty bad about it," he said.
One of the biggest carriers of germs is an item that nearly everyone has now, and has become essential to modern life — cellphones.
A person will use their cellphone innumerable times each day to accomplish a wide range of tasks, so it often doesn't cross their mind when they pull it out of their pocket where their hands have already been.
"Phones can be a bit of an in-between," Brown said. "You can pick up your phone after touching a bunch of things that can be covered in contaminants, and then where does it go? Right to your face."
To help people stay as germ-free as possible in the age of Covid-19, phone companies are helping people understand how to clean their phones. Apple said people can safely clean iPhones with disinfectant wipes, such as Clorox sheets. Samsung's website says customers can use an alcohol-based solution and apply it to their phones with a microfiber film.
There are, however, cleaning techniques that don't pair well with cellphones. People shouldn't clean phones directly with rubbing alcohol, as that can strip many of the coatings that keep oil and water from damaging the phone. Similarly, using water on phones can be a sure way to damage the device.
The best way to avoid germs, Brown said, is to be cognizant of them and to wash hands often.
"I wash my hands any time I've been out," he said. "Whether I was at the convenience store or work or filling up my gas. … It's best to err on the side of caution."