Roses, particularly red ones, remain the top pick for Valentine's Day. But the color choices are abundant.
Orange, yellow, green, blue, hot pink, lavender, white, multi-colored and even tye-dye roses are available these days, but red is the most popular, according to Paris Florist Manager Jerome Chapman.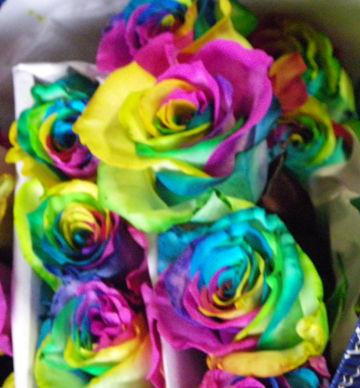 This year marks Chapman's 42nd Valentine's Day while working in the flower business. While some things have changed throughout the years – such as flower colors, others have not, he said. For instance, Valentine's continues to be the "busiest three days" of the year for florists.
The staff at Paris Florist was temporarily doubled to 15 to keep up with orders and deliveries.
"We've had 500-plus orders this week," Chapman said Wednesday.
The largest at that time was by a man who ordered three dozen roses for his wife who is a teacher.
Chapman shared a couple of tips for men who are sending flowers to their wives. The first tip is you don't have to sign your last name on the card because they (wives) know to whom they are married. The second is to have the flowers delivered to their workplace so their co-workers can see them.
"You'll score extra points," Chapman said, grinning.
Another aspect of Valentine's Day that remains the same is that it doesn't matter where people are located, they find a way to show their loved ones they care.
Chapman said he once received a letter from a man serving time in Huntsville prison. In the letter, the man asked for flowers to be sent to his wife for Valentine's Day and other special occasions.
"Eventually he did get out," Chapman said, noting the man thanked him in person for trusting him.
Besides jail, there are other locations that would seemingly make it more difficult to place flower orders. Chapman said troops deployed overseas, in places such as England, Saudie Arabia and Afghanistan, call with their orders. Men working on oil derricks and platforms do so as well, he said.
Women also send flowers to men. A favorite — deemed masculine enough — is the African protea.
Stand-out moments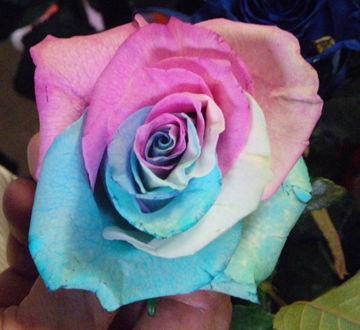 In the flower business, there are memories that stand out.
Chapman told of a couple who met on Valentine's Day and then married on Feb. 14th as well. Of course, they celebrate their wedding anniversary each year with flowers.
But not all memories are sweet.
There have been occasions when flowers are sent from someone with multiple sweethearts or from a "secret admirer." In some instances, the desire to know who sent the flowers – either by the recipient or sometimes a spouse – is overwhelming. When they contact the florist to learn the sender's or recipient's identity, they get frustrated when they are not given the person's name.
"It's a privacy matter," Chapman said. "It's definitely a secret."
That doesn't always sit well.
There have been times when flowers were tossed back at the delivery person and even an instance in which law enforcement had to be called to the shop because of a disgruntled person.
Flower delivery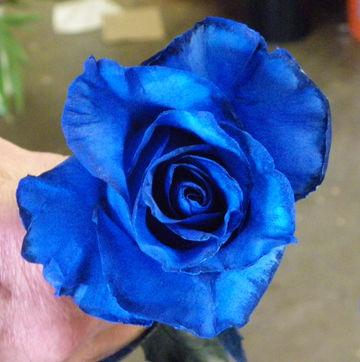 "The neat part (of the business) is how we get them (the flowers)," Chapman said.
He recently researched the topic online and learned hundreds of thousands of imported flowers arrive in Miami this time of year via temperature-controlled flights.
The flowers are then are placed in refrigerated trucks and transported to large cities like Dallas and Houston, where they are then delivered daily to florist shops nationwide.
"Keeping them cold (throughout the process) is the key," he said.
The flowers originally come from countries with warm climates ­— most near the equator.
Such places include Columbia, Honduras, Ecuador, Costa Rica, Africa and Holland, he said.
"Hardly anything is out of season anymore," Chapman said, noting someone can place an order for most flowers and usually get them within three days.
That is probably good news for the man who, according to Chapman, orders tulips to be delivered to his sweetheart on Valentine's Day — no earlier and no later.
About the store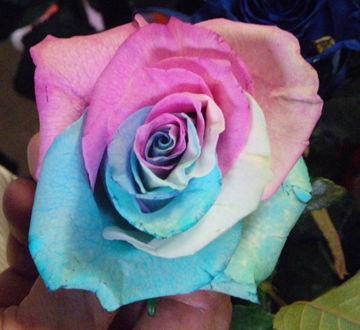 Paris Florist is owned and operated by Sarah Barbee and family. Many of the employees at the store have worked in the business for decades.
In addition to flowers, Paris Florist offers candles, candy, snacks, stuffed animals and other gifts. Chapman said people also bring in their own cards, gifts, perfumes and even nightgowns to be delivered along with the flowers.