The Sears Wish Book, which debuted in the early 1930s and went through many transformations throughout the decades, was always the go-to catalog when browsing for Christmas gift ideas.
Children awaited the catalog's arrival every year and eagerly flipped through its pages in the back section of the book. Once the youngsters saw toys they hoped to find under the Christmas tree, they would dog ear the page or circle the advertisement with a crayon or Magic Marker.
Many times there were more circles in the Wish Book than there were gifts under the tree, but that didn't matter. It was simply fun to dream.
This article is dedicated to the dreamers. Feel free to circle your pick. Who knows? You might find one of the following top-end gifts under your tree — or in the driveway.
CVO Tri Glide
Adventurers pay heed. Parked at Paris Harley-Davidson is something to get your motor roaring and your spirit soaring — a flashy 2020 CVO Tri Glide.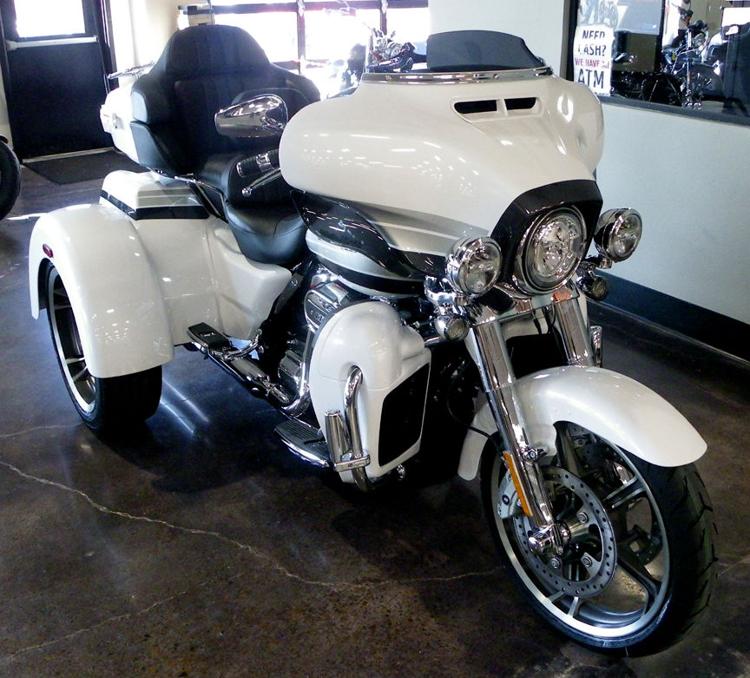 "I think this is the gift that keeps on giving," dealership spokesperson Molly Beaudin said.
She described how riding the roads and sharing adventures with likeminded people can melt away all worries.
The CVO Tri Glide is just the vehicle to make that happen. This ultimate trike comes with all the bells and whistles — a plush saddle, comfortable back and arm rests; heated front and rear seats and grips; and a premium sound system.
One reviewer described the trike as "a lounge chair on wheels."
The CVO Tri Glide has the new Daymaker LED headlamp, custom Kahuna collection grips, levers, pegs and floorboards. It also features the top-of-the-line BOOM! Box GTS infotainment and the BOOM! Audio 30K Bluetooth headset.
Furthermore, the trike comes with ample storage room. Total luggage capacity is 6.8 cubic feet and includes a built-in luggage compartment between the rear two wheels and a Tour-Pak top case with a built-in luggage rack. Both luggage cases have interior lights and can be locked.
Of course you need more than comfort when traveling. You have to actually get to your destination and the trike's 117 ci (1,923 cc) Milwaukee-Eight engine will see that you do.
The engine is the largest powerhouse offered by The Motor Co. and is exclusive to the CVO lineup. It is powerful enough to keep up with the two-wheel crew, particularly on freeways and straightaways. With 125 pound-feet of torque, there is more than enough takeoff speed.
All CVO models feature Reflex Defensive Rider Systems, which includes ABS, cornering ABS, electronic linked braking, and cornering electronic linked braking. The trike also has a parking brake integrated into the back wheels.
Even though the trike is a hefty 1,269 pounds, it features a reverse gear that makes backing up easy. The trike sits on 19-inch front wheels and 18-inch Tomahawk contract cut rear wheels.
The CVO Tri Glide comes in two premium custom-paint finishes: Blizzard White with three-stripe graphic and gray wheels, or Black Stardust with a three-stripe pattern and gloss black wheels.
Honda Pioneer 1000-5LE
Drop by Paris Honda Yamaha to check out the 2020 Honda Pioneer 1000-5 LE — "the Mack Daddy" of side-by-sides, according to David Wagenhauser, sales consultant.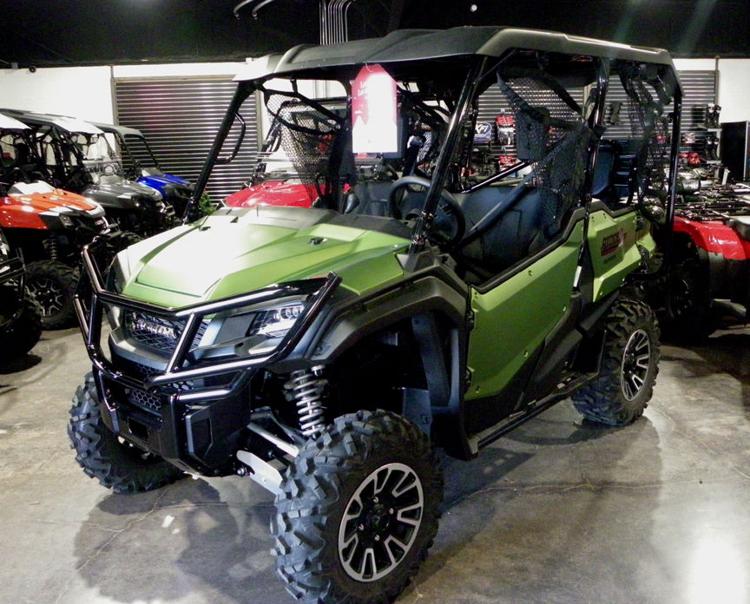 The Honda Pioneer 1000-5LE seats 5, has a 999 cc twin-cylinder engine and 1-ton towing capacity. Its unique beltless six-speed transmission offers automatic and manual shift modes with high and low range, plus sport and normal automatic shift programs.
The base 1000-5 has steel wheels and unpainted bodywork while the Deluxe comes with LED headlights, aluminum wheels and painted or camo bodywork.
The Limited Edition features Fox QS3 compression adjustable shocks, aluminum wheels, Matte Green Metallic painted bodywork, aluminum skid plate and A-arm protection, silver springs and A-arms. Additional features include under-dash storage, front and rear cupholders; illuminated switches, Honda's I-4WD system with traction-aiding technology, hill-start assist and electronic brakeforce distribution.
All models feature fold-down rear passenger seats for more cargo capacity.
Custom Ring
Sometimes all that glitters is gold — and diamonds.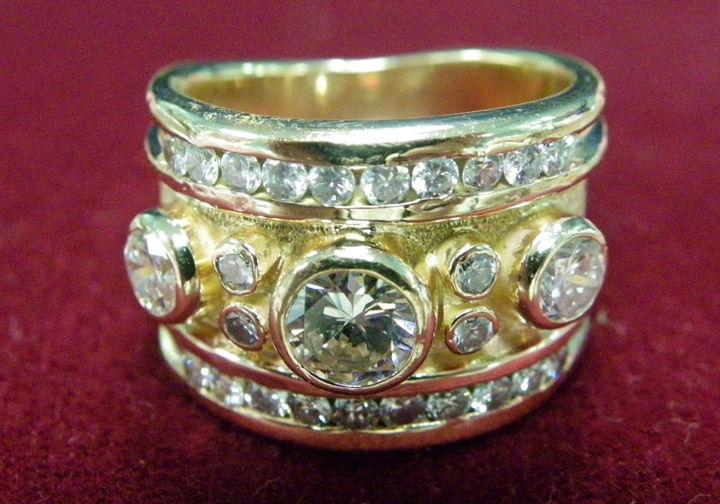 This ladies 14k yellow gold, cluster-designed ring is an example of the customized artistry offered at Paris Jewelry.
The designer, Louis F. Garza, said he was working in Carmel, Calif. — where Clint Eastwood served as mayor — when the idea for the design just came to him.
The ring features 27 diamonds and has a total weight of 1.77 carats. The diamonds are SI-1 clarity.
Martin Saddlery Team-Roper Saddle
If rodeos are your thing, check out the custom Martin Saddlery team-roper saddle at Big Country Farm Center in Paris.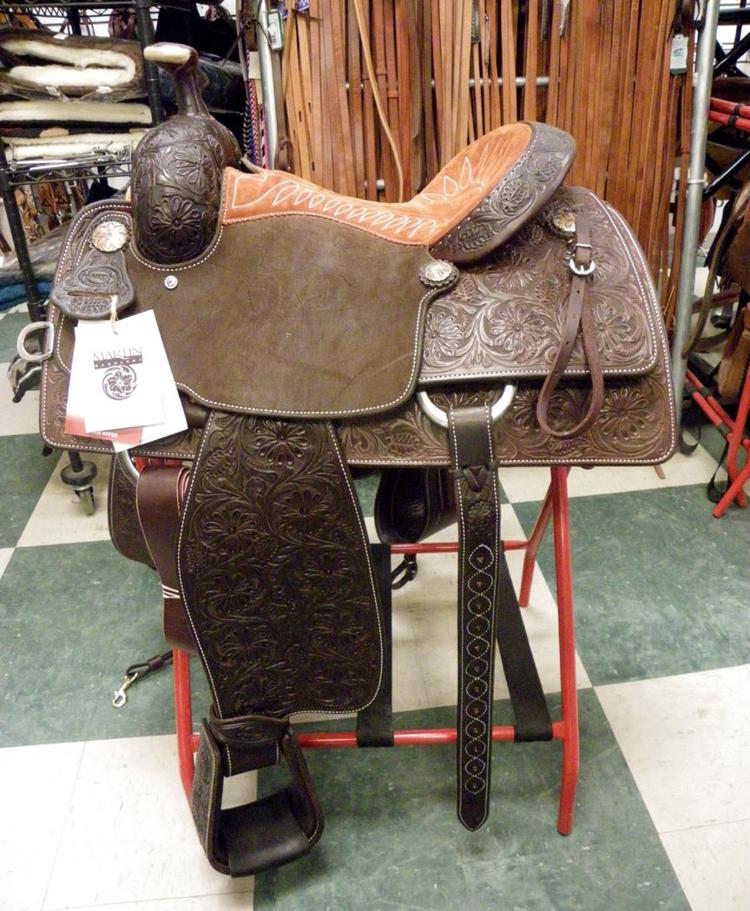 Information provided by the company states Martin saddles are hand-crafted, individually assembled and designed to keep a roper's body in position to maximize accuracy and performance. Riders remain behind the horn with their feet securely underneath their center of balance.
The seat pocket stirrup position and swell design prevents riders from tipping forward while the cantle design keeps them with their horse leaving the box and throughout the run.
The saddles are made from extra heavy Hermann Oak skirting leather. The edges are stitched and back housing and fenders are lined for enhanced durability. Billets are reinforced for longevity and durability.
They have a flat-plate style and dropped D rig that pulls over an extended area for stability and comfort. It features patent-pending Stirrup Positioning Rig Slot.
The custom saddle at Big Country Farm Center features chocolate leather with 7/8 Mountain Daisy tooling and conchos. The full-suede seat is rust-colored with border stitching. The seat size is 14 inches and the gullet is 6.75 inches.
The Axis True Fit Saddle Tree allows for full range of motion without abrupt pressure points on the horse. The fiberglass ground seat is unique to theAxis tree and adds 1,000 pounds of strength.
1895 Coca-Cola Urn Dispenser Replica
Only 500 replicas were made of the 1895 Coca-Cola Urn Dispenser.
The one showcased at Hickory Street Emporium in Paris is No. 86.
Store owner Johnnie Lee, who is employed with the Coca-Cola Company, owns the collectible dispenser. He bought the piece two years ago in South Dakota.
It is safe to say Lee appreciates the dispenser, but he will begrudgingly part with it for the right price.
The dispenser's value is based on its scarcity, beauty, condition, completeness (it includes an original glass, spigot and certificate of authenticity) and the history the urn represents.
"It's pretty special," Lee said.
He noted the real Coca-Cola urns in the late 1800s dispensed a heated, medicinal elixir made with cocaine. The elixir was used for sore throats, Lee said.
Prior to the Pure Food & Drug Act of 1906, there were few legal restrictions on what could be put into soda-fountain beverages.
The replica dispenser would be a great gift for anyone who collects Coca-Cola memorabilia, Lee said.