By Klark Byrd​ ​ ​
Good morning, Red River Valley!
Expect a wetter, chillier and windier day today in the wake of a cold front that passed through the region last night. Periodic thunderstorms have popped up and are likely to continue throughout the day. The chance for rain is 70%. Otherwise, today will be cloudy with a high near 52. Expect some wind coming from the east northeast at 15 to 20 mph with gusts as high as 25 mph. 
Scattered showers and thunderstorms may be seen through the night as clouds persist in the sky and the low drops only to 43. Don't expect the wind to let up as it comes from the east at around 15 mph with gusts as high as 20.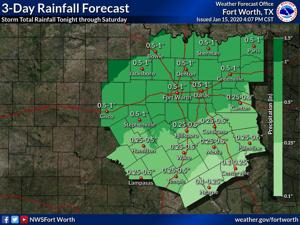 An unsettled end to the week is expected as several fronts move into and through the area. Here is your 3 day rainfall forecast.
National Weather Service
This wet period is very likely to continue into Friday as the high gets back to around 56. Wind gusts of 20 mph with sustained winds of 10 to 15 mph from the east southeast are forecast as well. The chance of rain Friday is 80%, rising to 90% for the overnight period as temperatures come down to 49 degrees.
As Friday night's cold front pushes through, the clouds will move along and open the sky for a sunny, but cool Saturday. 
Be careful on the roads during the rain, and have a great Thursday!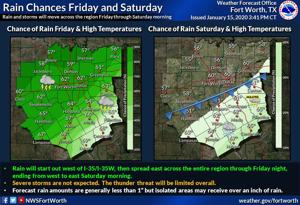 Rain and some storms will spread from west to east across the region Friday and Friday night; ending from west to east on Saturday morning as a cold front moves across the region. Severe weather is not expected, and rainfall totals are generally expected to be less than an inch. Temperatures will be slightly cooler on Saturday but cooler temperatures are expected early next week.
National Weather Service