A determined freshman goalie hung tough Tuesday night during a kick off, and the North Lamar Pantherettes came out on top of a match with Pleasant Grove for the team's second district win of the soccer season at R.L. Maddox Stadium.
The two teams battled back and forth during regulation play with the game tied 2-2. After two 10-minute periods of overtime, the score remained tied and that sent the teams into a shoot-out.
As she had done throughout the game, goalie Aveonia Allen allowed only two goals during the tie-breaker while North Lamar's seniors midfielder Jerika Johnson, forward Jacie Procter and forward Ashley Trenchar put the ball in the net, resulting in a 5-4 Pantherettes win.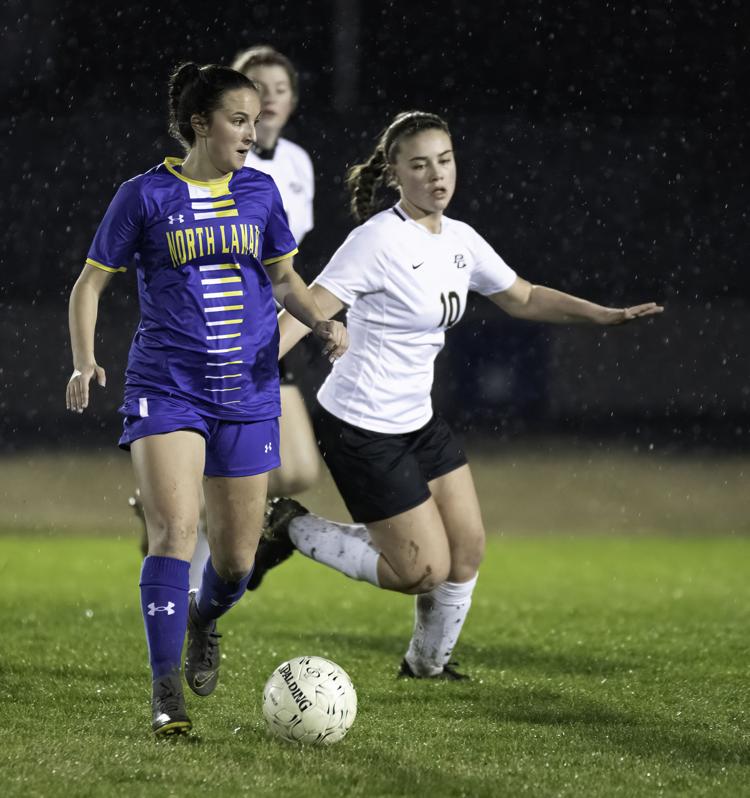 "In all my years of playing high school soccer, we had never beat Pleasant Grove," Johnson said after the game. "The win was really a big deal for the team, including all seven of the seniors. We knew what we had to do, and we knew we had to give our best game."
Senior forward Macie Pointer struck first in the match only four minutes into the game. North Lamar held the lead until 12 minutes into the second period when Pleasant Grove netted a goal, followed by a second strike with 13 minutes left in the game. With five minutes remaining, Johnson booted in the tying score for the Pantherettes.
Allen remained strong at the net throughout the game with more than a dozen saves.
"It was a lot of fun back there tonight, but I can't feel my hands," Allen said after the team huddled on the sidelines to celebrate the win. "I love playing this game, and I appreciate all the support from my teammates."
First year head coach Michael Pointer said his team worked well together and never lost focus.
"Our girls worked together so well," he said. "When things looked bad, they never backed off and never lost focus on the task we had to come out with a victory."
With three team members off participating in other activities, something Pointer said he encourages his multi-talented girls to do, the team suited up 16 players with each getting time on the field.
The Pantherettes, 4-5-5 overall and 2-0 in district, travel to Pittsburg on Friday with junior varsity scheduled at 5:30 p.m. and varsity at 7:15 p.m.