The old sports cliche, "defense wins championships," still rings true today. This year's All-RRV Defensive Player of the Year helped her team earn a district championship with her constant hustle and energy, and largely on the defensive side of the court.
Prairiland senior setter Madison Clark laid it all on the line for her Lady Patriots' squad, and was the anchor to the team's defense all around.
"I always make sure I'm on my toes and am ready for anything," Madison said. "I always try to work on my passing during practices or during my free time."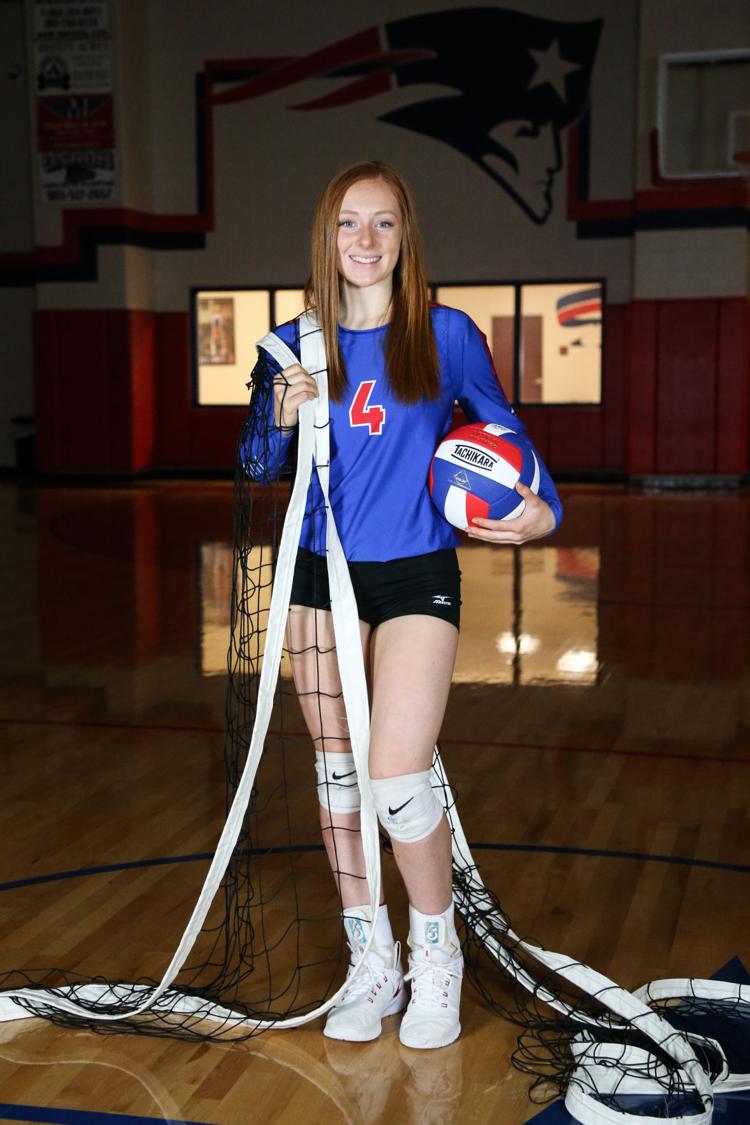 Madison posted excellent numbers on the year with 171 kills, 701 assists, 392 digs, 37 aces and 16 blocks. The effort she put forth on defense translated into the team's offensive success, which she knows flows together no matter how things may look initially in any situation.
"I think it takes hustle and wanting to get the ball up to run the offense smoothly," Madison said. "You can't give up on a play even when you think it's impossible."
The stats speak to Madison's value to the team and show how many different things she did for Prairiland. Her instincts on the court and ability to contribute in several different areas helped her team in its successful season.
"Madison is an extremely versatile player," Lady Patriots head volleyball coach Emily Vanderburg said. "She is a really good reader. She can read hitters really well, and she's really good on defense. Just when you think the other team has scored, Madison will get those tough balls up into play. She even chipped in with blocks here and there. She's not the tallest person, but with her vertical she was able to defensively get us some blocks and touches to slow the hits down."
Madison was able to impact the game with things that don't always show up in the box scores. Whether it was a hustle play or a touch on a hit, she did a lot to help her team win 36 times in 44 tries.
"Without a good pass you can't run a good offense and without hustle, things don't go well all the time," Madison said. "You can always slow down a team's offense no matter how hard the hits are with a good back row."
Some of her hustle plays even turned matches around. Against a strong Paris team early in the season, Madison's team trailed 20-15 in the third set, but an excellent diving save she made resulted in a point and gave her team the fuel they needed to eventually win the marathon third set 33-31 en route to a quality win in four sets.
"I remember our game against Paris and we were down by a few points in the third set," Madison said. "It was a long rally, and I remember hustling and getting a ball up that one of their girls had hit hard. We finally got the point after that play, and I did the same thing a couple of plays later. We ended up taking that set and eventually the match, and the hustle plays turned the match around."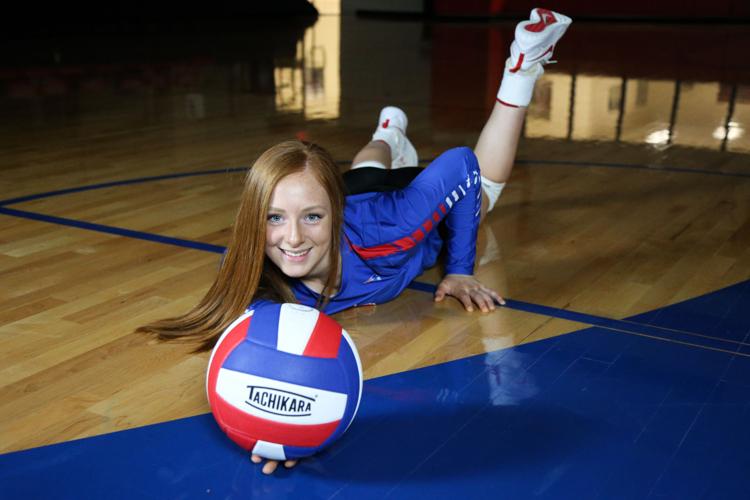 Whether it was in the pre-district slate or several rounds into the playoffs, Madison's defense was a catalyst for her team and its success.
"Madison's team defense is what kept us going at times," Madison's teammate Baylor Sessums said. "Her hustle plays are momentum-changing. No other girl on our team hustled as much as she does. She is by far the best defensive player on our team and she always has been. She's always had that hustle about her — no matter where the ball is she is going to lay out for it."
Even if an opposing player did put down a hard hit, the ball was usually in play. Even if a hard hit messed up the offensive rhythm, Madison could help her team get back in its flow with her hustle and skill on defense.
"Baylor (Sessums) and I usually had good passes to work with," Madison said. "But, even on a bad pass after a really good hit, we were still able to get the ball up and keep it in play because our team's defense is so strong."
Madison's craft on defense was a big reason as to why the Lady Patriots won the district championship outright over Commerce and advanced past the second round, and furthermore into the regional tournament for the first time since 2004.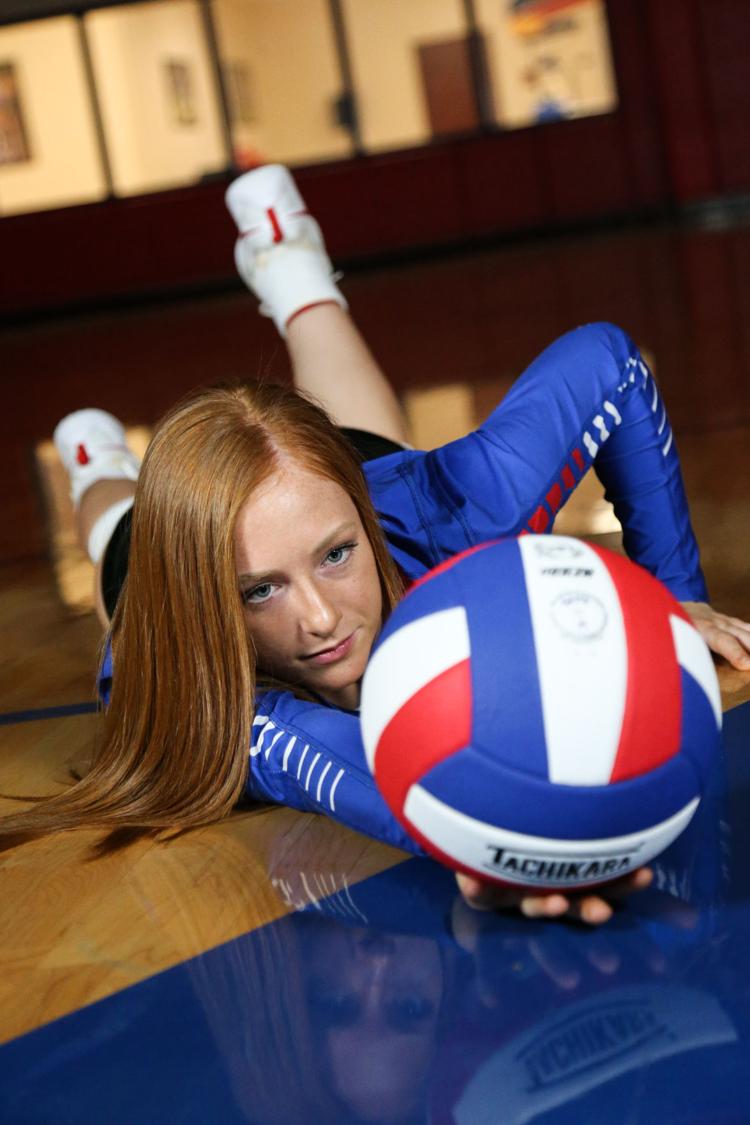 "This year was definitely one to remember," Madison said. "We got first place in our district, which I think brought us closer as a team and helped us make a deep run in the playoffs. With this being my senior year, getting to bond with my teammates even longer than most teams got to made it that much more special. We were able to accomplish the goals we had as a team, and it was a lot more than Prairiland teams have been able to accomplish in past years."
Prairiland accomplished plenty of firsts this year for the first time in more than a decade, but like all good things, it had to come to an end. Van Alstyne eliminated Prairiland in four sets in the regional semifinals, but Madison and her team learned a great deal from the loss.
"The toughest moment would have to be losing out of the playoffs," Madison said. "Most of us were seniors and it was hard knowing we'd never be playing together again or with the underclassmen. I think we learned that some things don't go as planned, but when you give it your all, that's all that matters."
Even though Prairiland lost to Van Alstyne in the fourth round and Madison's volleyball career in red and blue is over, her impact will continue to be felt for years to come.
"She's been a huge part of our program and trying to get it revamped with longer playoff runs," Vanderburg said. "The tradition of course is already rich here, and we have a great foundation, and Madison is a player that really added to it. She took us to the next level in all aspects of the game."
Playing for her team, her school and community will be missed, but Madison reflects back and appreciates the time she had gotten to play the sport she loved for the people who meant the most to her.
"My teammates have been my motivation this year," Madison said. "Knowing most of us were seniors, we knew we wanted to go far in the playoffs. I wanted to play the best I ever could for my teammates, and being able to go as far as we did considering how long we all played together fueled our fire to keep going. I will miss my teammates, the fans and being able to play for our school. We knew our community was always at our games supporting us meant a lot to us, and we will miss it."