A great offense goes a long way in the world of sports, but it has to be grown and cultivated over the course of time to reach its peak. This year's All-RRV Offensive Player of the Year fits this to perfection. North Lamar senior outside hitter J.J. Johnson grew on and off the court tremendously in putting forth her best season for the blue and gold no matter what was stacked up against her and her team.
"We had a lot of adversity this year despite what other people may think," J.J. said. "We overcame a lot. We had really good moments knowing we could always talk and help each other get through things. We had a different kind of responsibility and respect for each other that a lot of people didn't know we had. We loved each other as a family, and I always said, 'Just because we're a family doesn't mean we're always going to like each other, but because we're a family we love each other.' That's why we listen to and play so hard since we are doing it all for each other."
Overcoming the adversity was big for J.J. and the Pantherettes in once again getting to the postseason. The senior had been known for her ability and skills, but she knew something was missing. Once she gained the confidence she needed, J.J. began to reach new heights on the volleyball court.
"It helped me personally knowing that my teammates had my back on and off the court. I feel like I grew holding a greater responsibility and respect for myself," J.J. said. "At the beginning of the season, I lacked a lot of confidence in myself. I would always wonder if I could do something and was pretty timid. As the season progressed, I became more offensively and defensively minded when the time came for that to be necessary. I had a huge confidence growth in myself and was able to put it into every play, which turned into harder swings, faster (wrist) snaps and being able to put balls away for my team."
Some of those new heights meant new school records. To go with her monster totals of 435 kills and 217 digs, J.J. served 75 aces, which broke the previous school record of 70 held by former Pantherette volleyball legend Bailey Foy. The way J.J. could attack opposing defenses in several different ways made her a threat every time she touched the ball.
"J.J. is a very special player because she's very hard to defend. She is so explosive with her movement," Pantherettes head volleyball coach Sara Beth Upchurch said. "She hits the ball extremely hard even though she is a smaller person. She hits the ball with more power of any outside hitter I've had at her size. She's also very versatile. If I tell her to go line, she hits down the line. If I tell her to hit hard angle, that's where she's going to go. She's not just swinging to swing, she knows exactly where she's hitting and knows where the blockers are."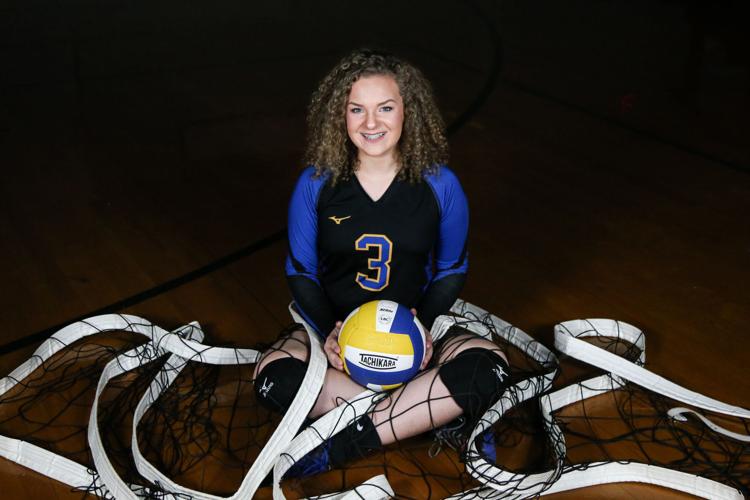 Placement was key for J.J., especially since she was nearly half a foot shorter than most of the people she competed alongside and against on the front line. Using her skills, knowledge and confidence to the utmost were all significant in her putting forth two great efforts against two strong foes.
"One of the biggest moments for me was in the district opener at home against Paris," J.J. said. "That was a game I really felt like I knew I had to step up in certain areas, and one of the biggest moments was being able to play with all I had in those difficult sets. Hitting the last point in the third set against Paris really helped my confidence, and it helped me realize that I can do anything I put my mind to. Also going up against a state-ranked Melissa team with these huge, 6-foot-tall girls as a 5-foot-6 outside hitter was a big moment. I have a good vertical, but was able to use my placement and hard swings to my advantage, which I knew I could help my team out with those things."
She and her teammates helped each other out in perfect unison on one play at home against the rival Lady 'Cats. J.J. put down a big kill to win the third set and cut Paris' lead to 2-1 in sets, but she remembers the beauty behind the well-executed "peek-a-boo" kill more than what she just did individually.
"I remember there was a hard-hit ball by Hannah Gibbons in our first game against Paris," J.J. said. "Jaycie (Proctor) sprawled out on the floor and was able to pop the ball up on a game-point in the third set. It was a perfect pass to Kenley (Coston) who sets the ball perfectly as a four play in our offense. I remember Macie (Pointer) being on the front row with me and she came in for a three as a decoy, and it comes up to me as I jumped up from behind Macie and the ball hit the floor on a line drive on Paris' side. I was able to put the ball down without a block because we kept the offense so fast. I swung really hard to get the ball down, and I remember that excitement of that play for executing that play so well with my teammates."
She had 21 kills and 19 digs at home against Paris along with a 17-kill and 5-ace performance against Melissa at home. The best competition brought out J.J.'s best, and her highest levels of energy, which may be the biggest component of her game.
"Having energy is a necessary component of every game, and it makes playing the game fun," J.J. said. "It helps me stay up and stay in the game because usually the team that is the loudest wins. Being able to be with a team and a coach that had energy is really incredible to have as a part of the game. It's so necessary of every part of our game. My energy helped me push through certain obstacles."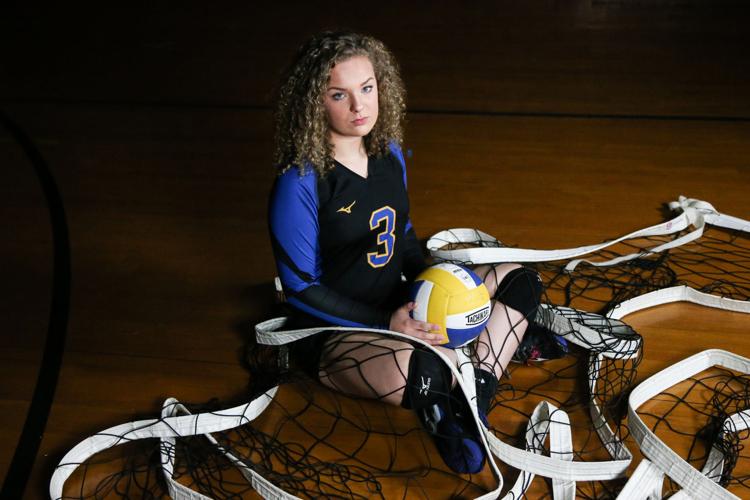 J.J. saw her confidence grow in more recent years, but she has always had a strong love for the game at a younger age. Since she started playing, the best opponents brought out her best, and she realized from then and still now the benefits of playing quality teams.
"I've been playing volleyball with the little spikers since third grade," J.J. said. "Being able to work hard, knowing the tough competition I've had in the past and being able to play against them in pre-district really helped me and our team grow. We were able to expect the unexpected, be light on our feet and bring our energy levels up against these strong teams. We would take our passes into sets, sets into kills and kills into celebrations making us the most hype we can be with these hard teams. Playing these hard teams helped us grow skill-wise and together as a team."
J.J. had to work hard to get to the peak level she is at currently. As a middle schooler, she wasn't a perennial and shoe-in star athlete. She had to put in the work to earn the success she's garnered as a North Lamar Pantherette athlete.
"I was B-team in middle school, and I just knew I had to work," J.J. said. "I always want to be the best I can be no matter what, and it's really hard for me to come out of my shell when I'm not performing well. I train with my club coach in Dallas named Melvin Bullet along with Coach Upchurch and get support from my parents, which all of pushed me to be my best and have energy. Them and my teammates always push me to be the best I can be, and have all helped my love for the game grow."
Her love for the game remains, but her last time out on the court in a North Lamar uniform came in the bi-district round against Kilgore. The Pantherettes fell in five close sets, and J.J. suffered an injury during the third set she didn't know about at the time. She played through the pain for the good of her team, and remembered the importance of sticking with her team through thick and thin.
"No matter what our difficulties were in that last game, I remember giving everything we had no matter what we were up against," J.J. said. "The first two sets went really well and the third set was when I hit my head on the ground and got a concussion. We didn't realize it at the time, but I just remember getting up and wanting to play with all that I had. My teammates always pushed me, but it was hard that we worked so hard and didn't get the result we wanted. We realized how much we wanted to play for Jesus Christ, each other and to have fun no matter what. We learned to always believe in ourselves no matter what happens, to always get back up after getting knocked down and to continue to fight.
"As a team we won together, we lost together and we will always have each other."
During her senior season, J.J. played for several things bigger than just herself. Using her loved ones and ultimate supporters as motivation kept the energetic senior's passion burning bright.
"My motivation this year was playing for my great grandmother who passed away a couple of years ago on December 26 at 100 years old," J.J. said. "It is during soccer season, but I remember her walking in that gym even at ages 99 and 100 years to watch me play. She pushed me to do my best, she always believed in me and supported me no matter what anyone else said. The way she pushed me has always stuck with me. Another one is Jesus Christ. We pray together before every game and would ask the Lord to help us play our best, for Him and for each other to the best of our abilities. That's what we're all here for. My mom and my coaches always pushed me to be the very best person I could be and the best player I could be no matter what. My mom played volleyball here at North Lamar as a setter, and carrying on her legacy was neat. All of my success on offense came from setters, and having that tie together is cool."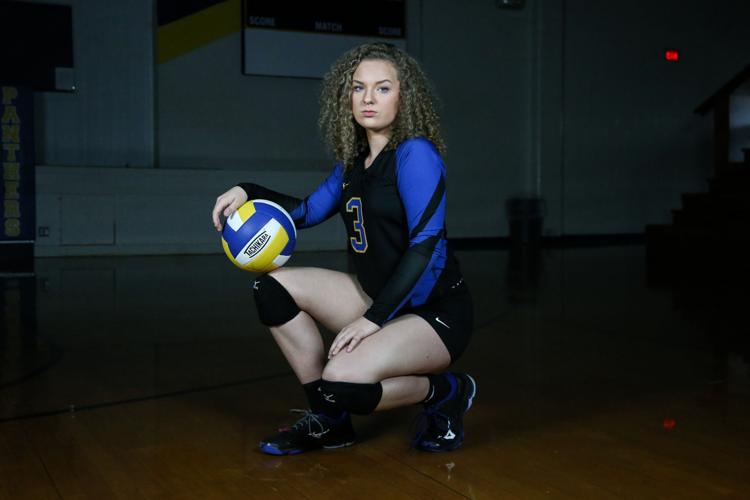 J.J.'s impact on the program and success she contributed will be missed, especially with the way she did it all through her hard work, dedication and selfless attitude.
"I consider J.J. like a daughter because she reminds me of a much better version of myself in high school," Upchurch said. "Last year, she was not confident enough in herself. She was such a good player, but needed more confidence to play all the way around in all six rotations. She's a very versatile player. She has worked her tail off to take a spot to be a six-rotation player. After the season ended last year, she told me that she was ready to get to work to play wherever the team needed her to be, but the best at it. That is exactly what she did. She worked all spring and summer long, and it was a pretty easy decision when two-a-days came around. She came in, she earned it and is willing to do whatever the team needed her to do."
She will be missed in the gym, but J.J. will also miss the memories she made and the people she played for. The support she and her teammates received will always be remembered.
"I'm going to miss the hype from the home crowd the most," J.J. said. "I remember their hype in the Van game and all our big games, it really gets us going. Hearing them cheer and support us was always great. I'm also gonna miss the team bonds, the relationships I made, the coaches at North Lamar and for everyone pushing me all the time to be my best. I loved how people believed in me and saw the potential in me that I couldn't see in myself."