"No justice, no peace."
That phrase was shouted repeatedly Sunday as protestors locked arms in a line across North Main Street at the Blankinship Oil gas station. Using their bodies to close the street to through traffic, protestors shouted "Black Lives Matter" even as vehicles approached and pushed them out of the way. At least two vehicles ended up with broken glass after they struck protestors.
The afternoon protest had moved from the Paris Police Department to Blankinship Oil, where, just the day before, an adult white man in a Beshirs Construction truck got into a fistfight with a black teenager. It ended when the 16-year-old body slammed the man into the ground, knocking him out.
That teenager is Devin Gill, and he and his brother, Za'ddarius Baldwin, 17, were walking from their mother's workplace when they noticed the man staring at them from the truck while it was being fueled, Baldwin said Sunday.
"And so my brother, he asked like 'why are y'all staring at us like that,' and he just gets out the car, takes his shirt off and like, gets mad," Baldwin said.
Video of the fistfight shows Gill and the man exchanging blows, but as Gill gets his arms around the man's waist, the man punches Gill in the head. Gill then lifts him off the ground and body slams him. Two other men approach and Gill and his brother walk away.
According to a police report, Gill eventually reached down to pick up a silver pocket knife. That's when one of the two men who approached the unconscious man ran to his vehicle, pulled a handgun and ordered the teenagers to the ground. A photograph sent to The Paris News shows Gill sitting on the ground with his hands in the air as the man stands over him with arms extended. The photograph has poor resolution, which washed out the man's hands.
"So he points the gun at me, then he points the gun at (Gill) and he told him to get on the ground," Baldwin said. "I backed up and called my mom."
Tameka Baldwin said she immediately left work when she got her son's call. By the time she arrived, the man with the handgun had left and another man, who was also in the Beshirs Construction truck, was putting an AR-15 back into the truck.
Police Chief Bob Hundley said the rifle was only pointed at the ground. Responding officers took pictures of it and Gill's knife, then allowed all to leave, the chief said. The man with the handgun eventually came forward and officers spoke with him as well, Hundley said, adding the investigation is ongoing.
For Tameka Baldwin, the police action wasn't enough.
"(Police) did not take nobody to jail or anything," she said Sunday while the protest was at the Paris Police Department. "The police didn't care at all because if they did, they would have made an arrest."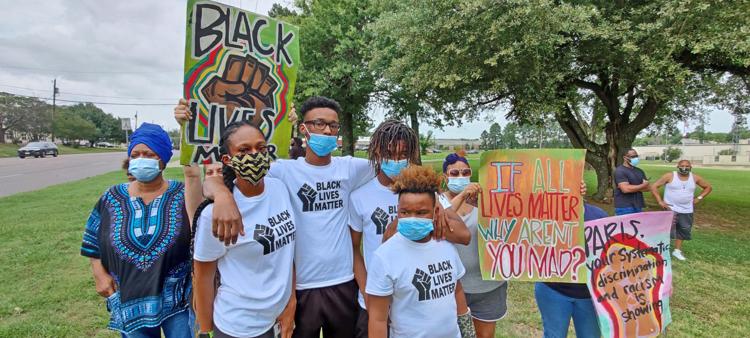 The teens have been left with mixed feelings about their safety in Paris. Tameka Baldwin said she doesn't believe they are safe because the men aren't in custody.
"So what if they ride around and see my kids, because they've seen their faces enough, and come finish what they started?" she said.
Hundley said the results of the investigation will be presented to the County Attorney's Office for consideration of filing charges.
Protestor Westley Martin, pointing at the Paris Police Department, said it "has a horrible resume for doing a good job for black folks," and he encouraged fellow protestors to raise money for a private investigator to look into the case. He also said the City of Paris should cut ties with Beshirs Construction.
"Paris has an outstanding … chance to show the world that Paris is not in 1966. The only way they can do that is by cutting that contract with Beshirs' company and letting them know that Paris is moving forward — we're not in Confederate times," he said. "If they honor that contract, you already know what type of city you live in and you already know they might embrace that (expletive)."
City Manager Grayson Path on Monday said it would be inappropriate to make any decisions regarding the relationship between the city and Beshirs Construction until the facts of the situation are known.
Protestors stayed along Clarksville Street on Sunday for about an hour and a half before local activist Carolyn Williams and protest organizer Alexis Dudley-Johnson asked them to move to Blankinship Oil. Shortly before 5 p.m., protestors formed a line across the four lanes of North Main Street at the unmanned gas station.
Most drivers pulling up to the protest turned around and took a one block detour on 1st Street NE. Some tried to get through. Protestors did let a few vehicles through, but at least two that struck protestors at low speed took off as protestors broke their windows. Moments later, Paris police arrived and blocked traffic on North Main Street at East Center Street and Loop 286.
"People were already in the street when officers received the call and traffic was still moving, which made it dangerous for all involved," Hundley said Monday. "My decision to let them remain and shut down traffic was made because we do not need more confrontation and did not have sufficient resources.
"We fully respect anyone's right to demonstrate and protest in a peaceful manner. Blocking traffic is certainly a tactic used to get a point across, but it's pretty dangerous for everyone and there are better ways to express your point of view."
Calling the protest "awesome," Williams said enough is enough.
"They are taking it too far when they're putting hands on these kids," she said. "These teenagers can't even walk the streets. They can't do nothing, and then the next thing you know police got them pulled over, laying on the ground with their hands up or stretched out on the ground. Enough is enough."