With the holidays around the corner, seasons greetings get sent out in the mail to friends, family and businesses, electronically and physically.
And those greetings can be found locally.
"We are able to design for anybody," said Kimberly Miller, owner of Willow and Birch Design and printing. "If you give everyone a voice, then you come out with the best possible product. I want them (customers) to have something better than they thought they could have had."
Often, when shopping locally, shoppers can find something cheaper than they thought, and at a higher quality, Miller said.
"My prices are comparable to what you would find online," she said. "Often they can be cheaper."
But what puts a local business over the top is service and availability. Recently, Miller said her friend had decided to go through an online company for some invitations.
"I was helping her with wedding invitations (on the phone with the company) because she didn't speak the language of graphic design. They were in Australia," she said. "There was only a certain window where she could talk to them."
With the pandemic dictating business practices, Miller said her design group has switched to meeting clients by appointment only, and it is fully prepared to do everything digitally, whether a video chat session with a client or sending proofs of a product before ordering.
"We can do pretty much anything that can be printed," Miller said.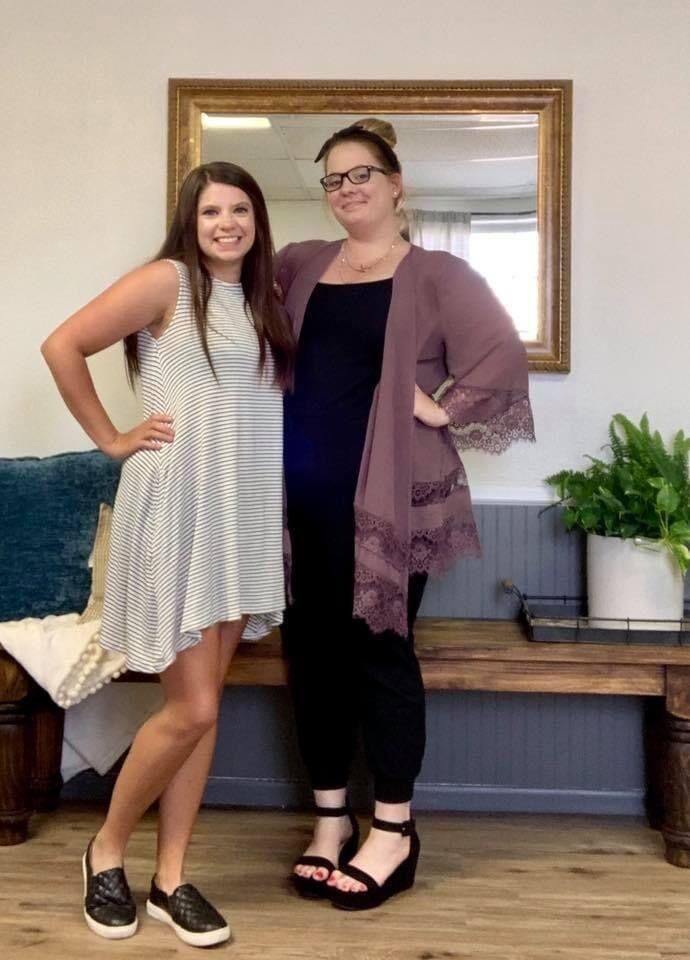 The business started three years ago, and since then, it's built a steady list of vendors, photographers and in-house graphic designers to help clients. Most jobs take anywhere from two to 10 days, depending on whether the project is completed in-house or sent to a vendor. In-house is the less expensive of the two options, Miller said, but the focus is finding the right fit for a client.
"I hate the word 'no,'" she said. "I hate the words, 'I can't.' We have options for every price range."
The shop has done extravagant card creations, with raised gold foil wording and suede feel cardstock to even something as basic as creating a digital card that can be sent via text or shared to social media. The most popular options though, is a 5-inch by 7-inch postcard-sized card, front and back. The business can include an envelope, special label closures, even wax seals.
"If you have an Excel file, we can individually address them for you as well," Miller said.
The design service works with families or businesses for holiday greetings, she said. One of her clients, Paris Chevrolet, has the firm design a new greeting every month, but around the holidays, they go all out, she said. Last Thanksgiving, she even convinced the owner to let her put his face in a turkey costume.
"I keep telling him, you have to come at this from a personal angle," Miller said.
Though he did get some guff from his employees, the design stood out, she said, and someone on his mailing list — who lived all the way in Colorado — actually came to the dealership and bought a vehicle.
"He said, 'I have never received a Christmas card from anybody,'" Miller said, and that spurred him to come by a vehicle from her client. The design also made it stand out from the typical holiday fare.
"That's the very first thing that a graphic designer's job is, that they pick it up and don't throw it in the trash,"Miller said.
The business also offers holiday specials and even gifts, like personalized or specially designed planners and calendars.
The firm works with designers Skylar Woodall; Miller's sister, Candace Council, and just hired a new designer, Mary West, who does a lot of art locally and sells her artwork through the Plaza Art Gallery.
"(West) just got a commission for four different images, the fountain, the Eiffel Tower, the clock and one more," Miller said. "I try to employ as many different talents as I can."
For information, visit the design firm's website, wb903design.com, or check them out on social media at facebook.com/willowandbirchdesigns. To set up an appointment, call 903-401-0269 or email willowandbirchdesigns@gmail.com.