EDITOR'S NOTE: North Lamar ISD voters go to the polls May 1 to decide the fate of a $51.55 million bond election to improve academic facilities, purchase buses, improve technology and athletic facilities and add an addition to the high school for the fine arts program. In the upcoming weeks, we will take a look at each of the five propositions on the ballot. This story is Part 1.
North Lamar ISD students in grades two through five will walk into a new state-of-the-art elementary school in Fall 2023, and students at other campuses will see vast improvements to academic facilities if voters give their approval to Proposition A as part of a total $51.55 million bond election May 1.
Funds for academics makes up 84%, or $43.07 million, of the total five proposition package, and it provides major renovations at 47-year-old Everett Elementary to provide age-appropriate facilities and a positive experience for prekindergarten and first grade students as well as improvements at Parker Elementary in Powderly, built in 1940; upgrades at Frank Stone Middle School, built in 1965; and North Lamar High School, built in 1994.
"This bond package covers students with special needs, young students, older students, those in band, choir, drama or athletics," Community Advisory Committee member Aaron Barnes said at a January board meeting after the 33-member committee met over a two-year period to access facilities and separate needs from wants, reviewing more than $60 million in projects. "If you are taking notes, you might want to write down 'something for everyone.'"
The academic proposition is focused to address the challenges of aging buildings that cost more to maintain and operate, which increases spending from the maintenance and operations budget and diverts funds from the classroom, according to a presentation used in a bond election information campaign. Older buildings also cannot support the electrical load for every student to have their own learning device in the classroom, which delays access, takes away from instructional time, and frustrates both students and teachers.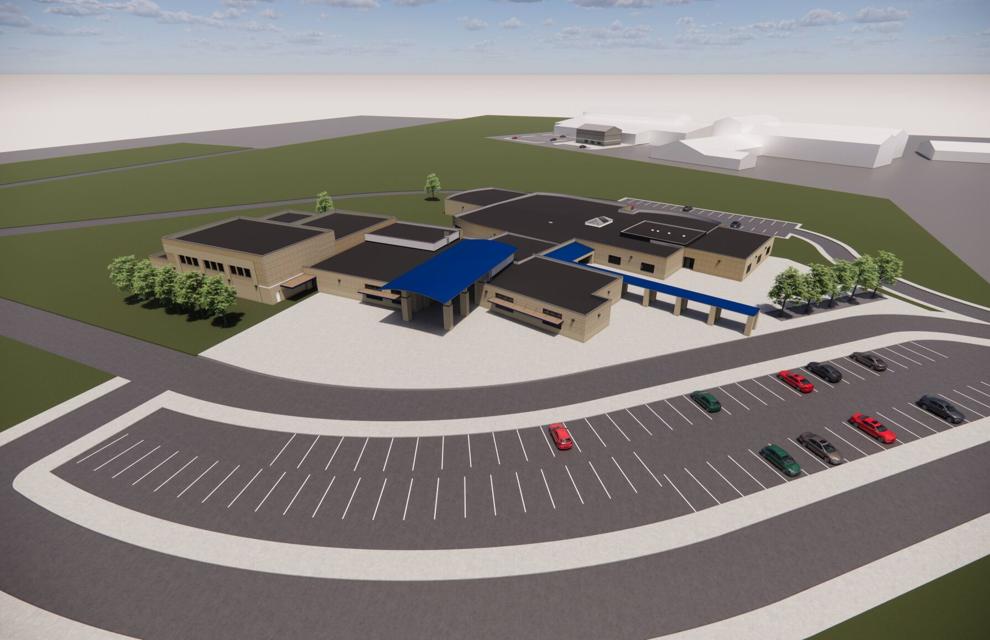 The proposed $23.8 million dollar elementary school for grades two through five, to be located north of the high school on property already owned by the district, will house about 650 students and comes with a storm shelter, a 30-year roof, brick exterior, and a carton foundation similar to the high school to prevent damage experienced at Higgins and Bailey elementaries. Higgins will be demolished, and Bailey will be repurposed to serve the district's special education program.
The new elementary school allows for a realignment of grades so students do not change campuses every two years before entering Stone Middle School in sixth grade. Realignment provides for better communication among teachers as they prepare students for state testing beginning in grade three, district officials said. It also allows for continuity and the fostering of relationships among students, parents and staff, important not only for academics but for social and emotional development.

Renovations at Everett will include roof replacement along with 22 heating/air units, accessibility code upgrades, electrical upgrades, renovation of restrooms for younger children, hallway construction to prevent classroom interruptions, gym floor replacement, site drainage improvements, a new entrance and brick exterior. At Parker, plans call for roof replacement along with 26 heating/air units, new fire alarms, electrical upgrades, site drainage improvement, gym wall repair, canopy replacements and a new entrance canopy. At Bailey, space will be created for special education with new fire alarms, Americans with Disabilities Act accessibility and new sidewalks. The north wing, gymnasium and fine arts will be demolished and replaced with grass.
Frank Stone improvements include roof replacement on the "A" gym and "A" wing bathroom toilets renovation in both buildings, replacement of 24 heating/air units, upgrade to intercom and bell system, "A" gym floor replacement, electrical service upgrade and drainage improvements.
High school improvements include gym floor replacement along with the floor structure, intercom/bell update, lighting and sound system replacement in auditorium, 38 heating/air system replacements, improved drainage and greenhouse roof replacement.
To be eligible to cast a ballot in the May 1 election, voters must live in the district and be registered to vote by April 1. Early voting, from 7 a.m. until 7 p.m. begins April 19 and ends April 27 in four locations with weekend voting available from 1-4 p.m. April 24 and April 25. Early voting is to take place at the Roy C. Chadwick Administration Building, 3130 N. Main St. in Paris, Aaron Parker Elementary, 98 CR 44112 in Powderly, Direct Volunteer Fire Department, 20317 FM 79 in Sumner and Reno City Hall, 160 Blackburn St. Election day voting will be at the administration building.