Good morning, Red River Valley!
Precipitation has ended across the region as much drier air has arrived, but temperatures have dropped into the low 20s area-wide. Although wind speeds have been falling, and will continue to fall through midday, the continued north breeze will likely result in single digit wind chills for much of North Texas, according to National Weather Service meteorologist Matthew Stalley.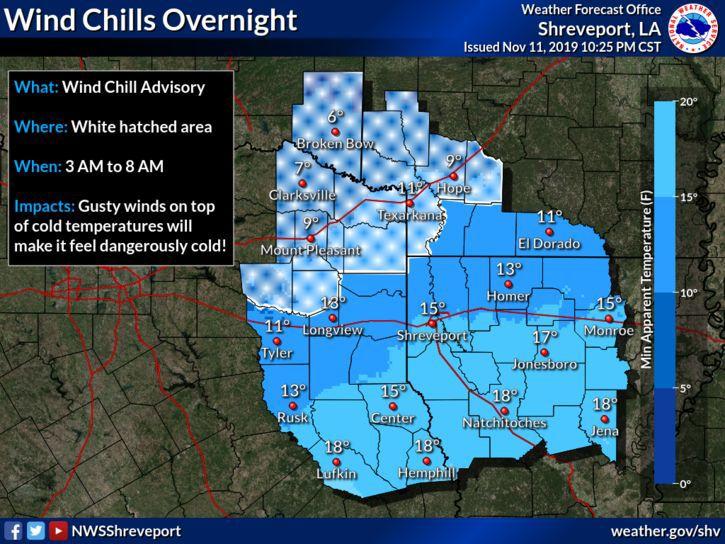 Although the 4:30 a.m. temperature in Paris was 22 degrees with a wind chill of 6 thanks to a 17 mph wind from the north, the Wind Advisory in place for Fannin, Delta and Lamar counties will be allowed to expire at 6 a.m., and the same is true for the Lake Wind Advisory issued for Red River County. But Red River County also is under a Wind Chill Advisory, in effect from 3 a.m. to 8 a.m. 
Skies should continue to clear today, resulting in a clear, sunny Tuesday but don't expect the high to reach beyond 40 degrees. Most North Texas areas won't make it out of the 30s, Stalley warns.
With dry air in place, expect another clear and frigid night with lows dropping to about 24. Stalley said winds will be lighter, which means wind chill values will only be a few degrees less than ambient temperatures. Temperatures should rebound into the 50s for Wednesday, setting up the rest of the week with sunny, mid-50 degree weather. 
Chilly as it may be, it's going to be a sunny Tuesday. It's up to you to make it wonderful!