EDITOR'S NOTE: Story was updated at 3:10 p.m. Friday after the Winter Storm Watch was upgraded to a Winter Storm Warning.
With severe winter weather on the way and after a massive, deadly 130-vehicle pileup on an icy Interstate 35 near Fort Worth, National Weather Service meteorologists are warning that today may be the last good day to prepare for several days of snow and ice.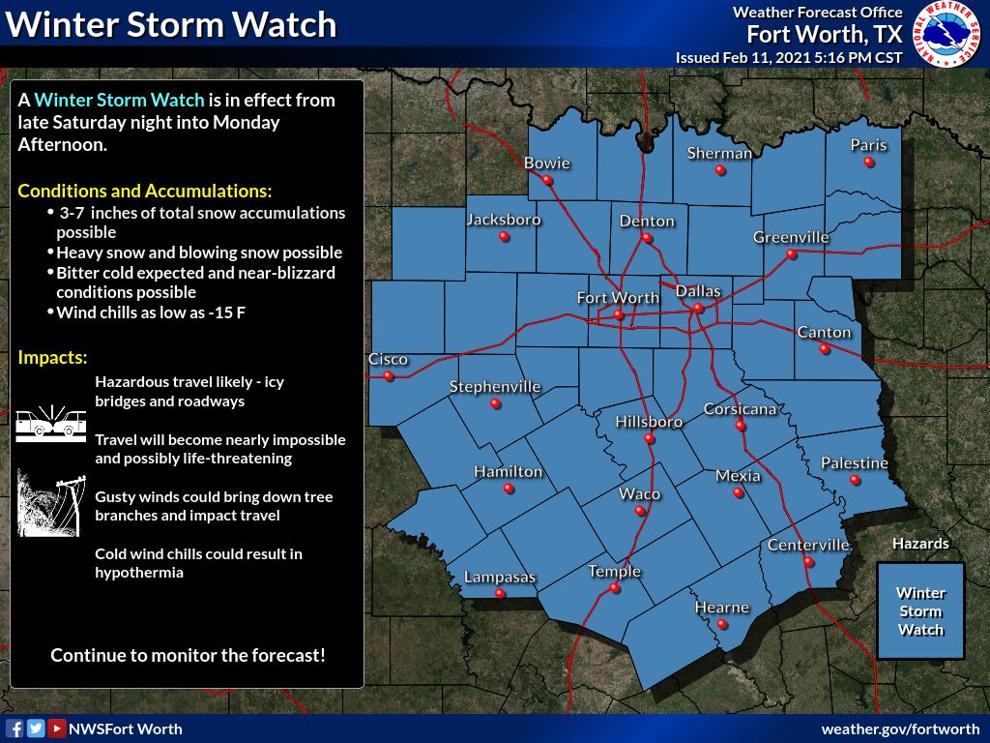 A Winter Storm Warning for Lamar, Delta and Fannin counties from 6 a.m. Saturday through 6 p.m. Monday.
Temperatures are already dangerously low with overcast skies this morning keeping the high at about 25 degrees with a wind chill making it feel like 14 degrees. Any sitting water on roads is likely already ice, and it will stay that way unless treated through at least Wednesday, the first day in the forecast that the high will get close to 32 degrees.
Meanwhile, freezing drizzle throughout the Red River Valley may begin Saturday morning. The chance for the precipitation is 20%, but chances increase later in the day as a light sleet/snow mix may fall as wind chills dip further into single digits. NWS meteorologists warn bridges and overpasses may get a thin glaze of ice ahead of Sunday's storm, and motorists are asked to give themselves extra time to get to their destination.
"As we saw with the tragedy in Fort Worth on Thursday, even slight accumulations can cause major impacts. In addition, with temperatures staying below freezing, this new ice accumulation will be on top of any ice that is already present," NWS meteorologist Jason Godwin wrote in forecast discussion.
On Sunday and into Monday, heavy and blowing snow are possible. Chances will increase from 40% to 70% with possible snow accumulations of 4 to 6 inches. Travel could become difficult and life threatening, the NWS warns. Cold wind chills as low as 15 below zero could result in hypothermia if precautions are not taken.
"Regardless of how much snow is received, the bigger threat will be the extreme cold we are expecting on the heels of the system. Ongoing sub-freezing temperatures will plunge even further as another surge of arctic air arrives. Single-digit low temperatures begin Monday morning for the northwest half of the forecast area with teens across the southeast. North winds of 15 to 25 mph will produce below-zero wind chills across most of the area, with single digits elsewhere. Snow pack will keep Monday high temperatures in the teens, with Monday night lows in the single digits area-wide," Godwin wrote. "Protection of people, pets, and pipes will be crucial during this period."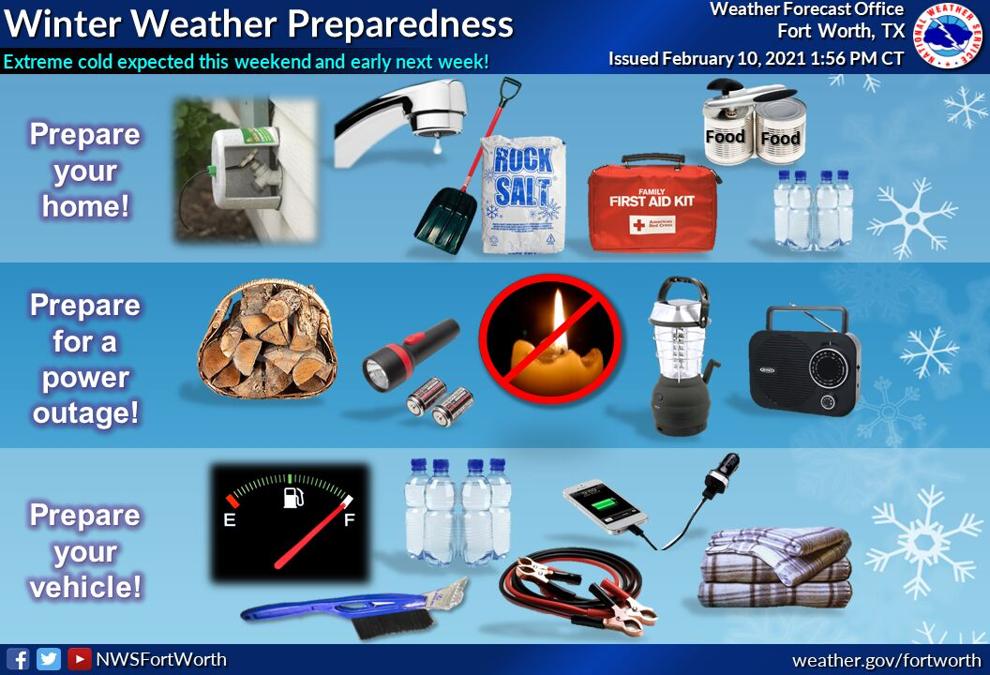 The NWS says preparedness should include having canned goods, bottled water and a first aid kit handy. Outside faucets should be covered while indoor faucets should be left to drip to prevent pipes from freezing and bursting. Keep a snow shovel and rock salt handy if you must go outside. People are encouraged to keep an emergency weather radio, lanterns and flashlights handy in the event of a power outage. Vehicles should be full of fuel and should have a window scraper, jumper cables and extra blankets in reach. Keep a car charger available to charge electronic devices like cellphones.