Marked by the global outbreak of a novel and deadly coronavirus, 2020 will enter the history books with the likes of 1918, 1957 and 1968 — three years known for their deadly viral outbreaks. SARS-CoV-2, the virus that causes Covid-19, has killed more than 335,000 Americans to date and more than 1.7 million people worldwide, according to the Centers for Disease Control and Prevention. That's more American deaths than the 1957 and 1968 flu outbreaks combined, making SARS-CoV-2 the most deadly respiratory illness outbreak in the U.S. since the H1N1 flu in 1918 claimed 675,000 American lives and at least 50 million lives worldwide.
Covid-19 would be the third leading cause of death in the U.S. this year, trailing only cancer at No. 2 and heart disease at No. 1, if there are no changes in the top 5 leading causes of death since 2018. It would be followed at No. 4 by accidents, which claimed less than 168,000 lives in 2018, CDC records state.
Suffice it to say, no story was bigger in 2020 than Covid-19. The disease impacted every aspect of modern life — it disrupted travel and business and overwhelmed medical facilities, personnel and supplies. It led to mass mask wearing in the U.S. Voting was postponed and later expanded. Toilet paper and meat ran short, as did people's tempers. In-person meetings became virtual conferences, and school districts brought students and teachers together in virtual classrooms.
But just as rapid vaccine development limited the 1957 and 1968 outbreaks, new vaccines were delivered before year's end and offer a glimmer of hope that life may soon take a turn toward normalcy.
Initial spread
Life in the U.S. at the end of 2020 is much different than at the start. In January, there were stirrings of a new coronavirus in Wuhan, China. U.S. doctors and officials expected the disease would be largely contained there, an expectation based on other recent past respiratory disease outbreaks, namely SARS and MERS. Then, on Jan. 21, the CDC confirmed the first U.S. case in Washington state. Two days later, the city of Wuhan was quarantined. By the end of the month, the World Health Organization issued a global health emergency.
Everyday life in the Red River Valley didn't change much in February, even as the U.S. declared a public health emergency and China's Covid-19 deaths exceeded those of the SARS crisis. Americans started paying attention to news of Covid-19's spread as the CDC issued a late February statement that the disease was approaching pandemic status.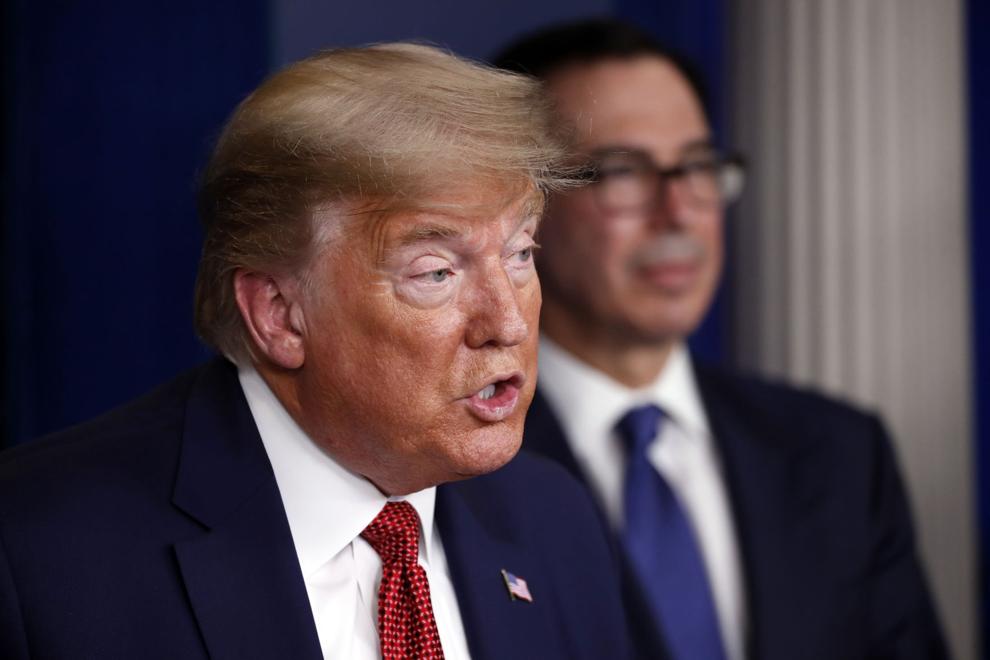 In March, however, everything changed. President Donald Trump declared Covid-19 a national emergency on March 13. He instituted a 30-day travel ban for most foreign visitors and championed a House aid package enhancing unemployment benefits, sick pay for workers and extra money for food programs. The package also delivered $1,200 checks to individuals making less than $75,000 a year, $500 for children and it provided an extra $600 per week for the unemployed.
That week was spring break for Red River Valley schools. Out of an abundance of caution, Paris Junior College and all Red River Valley schools extended the break, at first for a few days, then a week and then a second. Various organizations canceled or postponed fundraisers, including Pancake Days by the Kiwanis Club of Paris. It was the first time in 69 years Pancake Days did not go on as planned. The United Way of Lamar County suspended its free tax help program. The UIL suspended all competition, ending the high school careers of senior spring sports athletes.
As Texas's case count rose to 27, with the closest case in Collin County, Paris Regional Medical Center officials sought to allay fears by providing information on a coronavirus information page. Local businesses took proactive measures to stem the spread. Whataburger, McDonald's and other restaurants adopted grab-and-go processes as they closed seating to the public. Kroger, Aldi and Walmart rationed certain items, especially paper products like toilet paper, and Walmart started closing at night. Some stores announced senior shopping hours, usually first thing in the morning, as the public learned the virus was particularly dangerous for the elderly.
By March 17, the number of Covid-19 cases in the state rose to 69 and Gov. Greg Abbott activated the Texas National Guard. On March 18, the first known case of Covid-19 in the Red River Valley was confirmed in Fannin County when a 64-year-old Bonham man tested positive. On March 19, the Paris-Lamar County Health District reported the first case in Lamar County. Paris Mayor Steve Clifford said the person "returned from travel abroad and had immediately been placed in quarantine along with family members." Six more travel-related cases were found in Lamar County before health district officials began reporting community spread. Moments after that first case was reported, Lamar County Judge Brandon Bell signed a declaration of local disaster for public health emergency, joining his counterparts in Fannin and Red River counties.
Also on March 19, Abbott ordered restaurant dining rooms, gyms and schools to close through April 3. His executive order limited social gatherings to 10 people, prohibited eating and drinking in restaurants and bars while encouraging take-out and delivery, banned visits to retirement centers and nursing homes except for critical care and closed schools while calling for alternative education methods. The goal was to stamp out the virus by limiting its spread, and it was an unpopular move among affected business owners and members of Abbott's Republican party. Both called the orders government overreach. The effort ultimately failed as many Texans bucked mask requirements and disregarded stay at home requests.
As businesses remained closed, unemployment claims began rising. State and federal agencies enacted eviction bans to keep people in their homes while they were unable to work due to the mandates.
On March 27, the Paris-Lamar County Health District reported the county's third case while Fannin County officials reported their second. That same day, with more than 85,000 confirmed Covid-19 cases, the U.S. overtook Italy and China as the country with the most infections.
By the end of March, medical professionals were warning of Covid-19's long-term effects, such as issues with blood clotting, brain fog and fatigue.
Covid-19 testing in Texas got off to a rocky start as supplies ran tight. The state health department's laboratory in Tyler, where tests from the local health district were sent, ran out of reagent necessary to get test results. That caused a backlog of patients who were asked to quarantine for the recommended 14 days or until their test returned negative.
Springtime wave
Fannin County officials in early April considered a "shelter in place" order to limit the disease's spread, but they reversed course the next day amid public outcry. In Paris, officials urged residents to use face masks in accordance with CDC guidelines as the agency retracted its prior guidance against wearing masks. The public was asked to leave N-95 masks for health care workers because the nation's personal protective equipment inventories were running low. Clifford and the CDC said masks could be made from cloth, scarves, bandanas and handkerchiefs.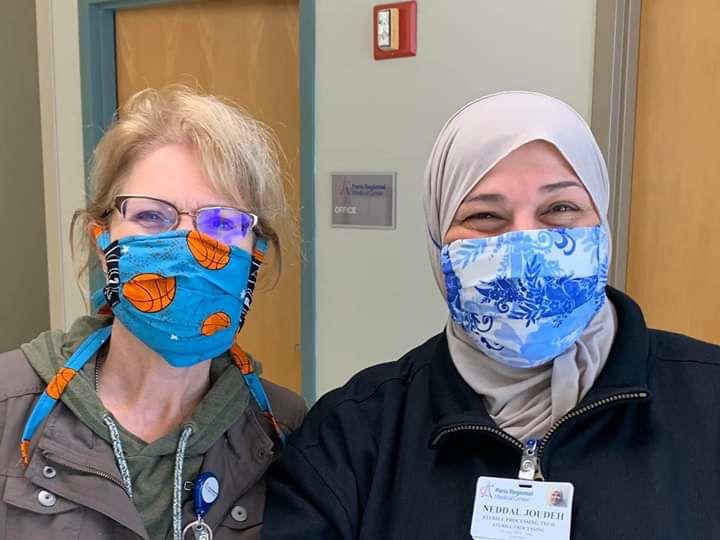 "These coverings provide a minimal amount of protection for the person wearing them, but they significantly help prevent the spread of the disease when worn by someone infected with the virus. They also serve as a constant reminder to not touch your face," Clifford said. "Each person may decide for himself if wearing a face covering is appropriate... This is certainly not mandatory, but I would like to see more and more people wearing these in public. If we do this, we may help limit the spread of the virus."
The nationwide PPE shortage hit home, particularly shortages of medical-grade masks, and volunteers responded in a big way by making reusable cloth masks for first responders and health care providers. Among the largest efforts was the Lamar County Medical Mask group, founded by Paige Wood Jordan and assisted by Fair Shae Guest and hundreds of volunteers.
"We have people in their 90s. We have little kids sewing," Jordan said. "These moms can sit down and teach their kids not only sewing, but the value behind it."
That effort, coupled with other groups that provided low-cost masks to the public, were in full swing as Clifford ordered all nursing home health care personnel to wear face masks at all times while in their facilities or face a misdemeanor charge and a fine up to $500. Despite the order, Paris's Covid-19 case count took off after the virus was found in three nursing homes.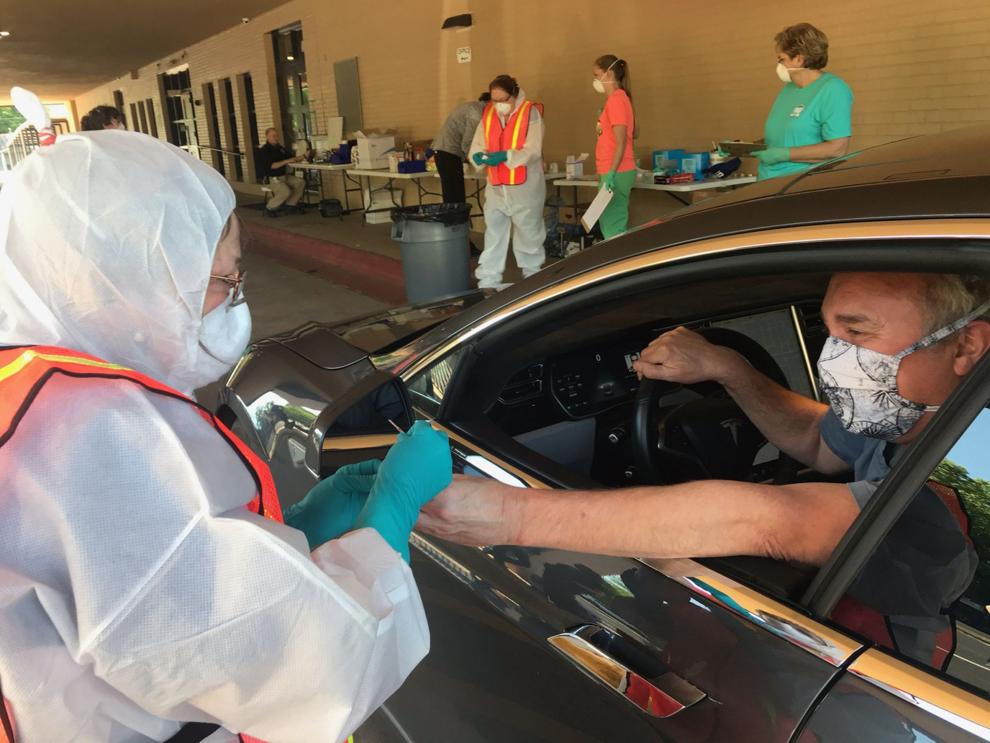 The outbreak put the brakes on the city's attempt to offer low-cost Covid-19 testing to the public. Paris bought the tests, and officials completed a test run at Justiss Elementary School. Testing was going to open to the public until more than 40 cases were found in Paris Healthcare Nursing Home. A resident there became Lamar County's first Covid-19 related fatality on April 29.
As officials in Lamar and Fannin counties watched case numbers rise, Delta County didn't see a confirmed case until April 8. Red River County's first case followed a week later on April 15. With cases continuing to rise rapidly across the state, Abbott ordered schools to remain closed through the rest of the school year. In order to reinforce what students learned through spring break, school districts offered students online activities and paper packets. They started Covid-19 feeding programs to ensure students were fed. State education officials canceled the STAAR test.
Meanwhile, local bankers were working through the bumpy rollout of the Paycheck Protection Program, a lifeline for businesses made possible by the federal CARES Act. Lawmakers urged business owners to get their share of funds, which were available on a first-come, first-served basis, and banks were flooded with applications before they could access the Small Business Administration's E-Tran system. Even then, the system kept crashing under the weight of the response.
"It took three hours to input the first loan; the system was so screwed up," said Greg Wilson, Lamar National Bank president.
Eventually the bugs were ironed out and local bankers helped regional businesses collect more than $63 million in PPP funds, impacting thousands of jobs. The funds came with the promise of forgiveness, a process that got underway in August, bankers said. In November, employees of Lamar National and Liberty National banks said the loan forgiveness process was going much smoother than the program's initial rollout.
By the start of May, there were 68 Covid-19 cases in Lamar County and 23 in Fannin County. On May 6, Fannin officials announced the county's first virus-related death, a 78-year-old Ladonia man. At the time, there were 34,422 cases in Texas with 948 deaths. Nationwide, there were more than 1.2 million cases with 73,435 deaths.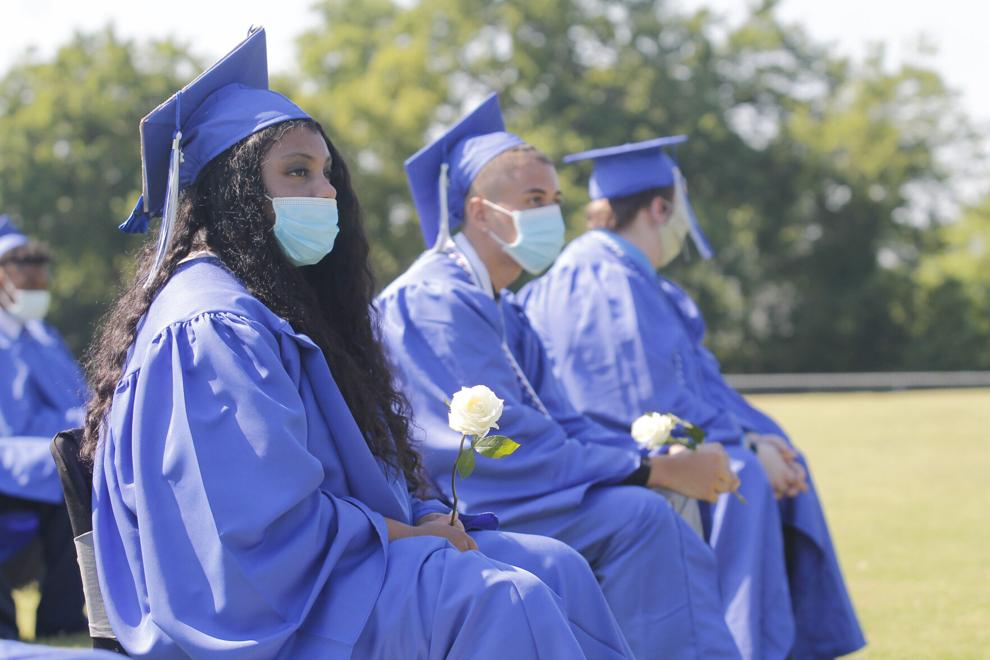 There were questions about whether high school seniors would receive graduation ceremonies as public gathering limitations remained in place. School administrators waited with bated breath on a decision by state education officials, and they moved swiftly ahead with graduation plans once Texas Education Commissioner Mike Morath delivered guidance.
In the meantime, Abbott allowed for the reopening of some businesses, but tattoo shops were not included. That prompted local tattoo shop owner Daniel Garza to make a trip to Austin to protest with fellow artists from across the state.
"This is how I provide for my family," Garza said. "It's my income, it's my livelihood. In my household, without this job, we're going to have to make a lot of major cutbacks."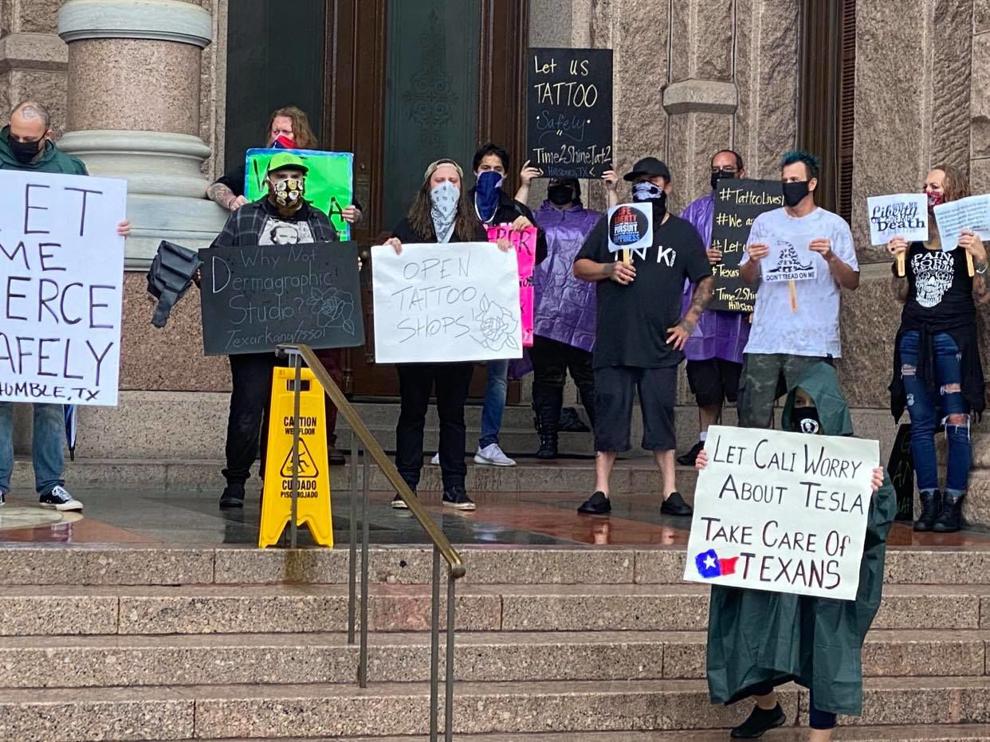 Abbott relented on May 20, and Garza wasted no time in getting back to work. He went on to host his annual Paris Body Art Expo, postponed from earlier in the year, at the Love Civic Center in early October.
Also postponed or canceled were some of Paris's major tourism events, including Tour de Paris, the Paris Balloon and Music Festival and the Southwest Archery Tournament. That took a financial toll on many local businesses, such as hotels, restaurants and boutiques.
"The archery tournament brings in well over a million dollars to our community," Lamar County Chamber of Commerce Tourism Director Becky Semple said, when factoring in hotel stays, restaurant meals and local shopping during the event.
The Tour de Paris, which alone brings in between $250,000 and $275,000 to the local economy, eventually took place in late September with changes like a staggered start. It was followed the next day with another bike ride, Hell of the North Texas. About 650 riders turned out for the tour while Hell of the North Texas attracted 60.
Some businesses didn't survive until then. Before May ended, a handful of Paris stores closed or announced they soon would, including J.C. Penney and Bargains For Everyone. Restaurants took another hit, this time on the supply side as coronavirus outbreaks hit meat processing facilities in Iowa and South Dakota. Phat Phil's BBQ closed its doors during that time.
Per the governor's order, Paris Regional Medical Center relaxed its zero visitor protocol to allow limited visitors, and it resumed elective and non-urgent services.
Voting in school and city elections originally set to take place in May was postponed until November.
A topsy-turvy summer
The dawn of summer brought hope that the heat and humidity of Texas would kill the virus and thus end its spread similar to flu season. But cases statewide continued to spike, and so too did the number of hospitalizations. Early in the month, 2,153 hospitalizations set a record that was demolished by the end of the month when there were 4,739 hospitalizations.
Abbott initially rolled back business restrictions in June while urging the public to heed CDC guidance. He sought to assure business owners that closing Texas again would be "the last option." But as the number of cases in the state more than doubled in the month to 153,011, the governor ordered bars to close and scaled restaurant capacity back to 50%.
Local case counts in June didn't grow as quickly as the state's, with Lamar County's rising from 150 to 283. Red River County saw an additional 35 cases, while Fannin County cases increased 37. Delta County reported five new cases in June. Nine people in the Red River Valley died from the virus that month.
The pandemic reduced oil and gas industry demand, and as fabrication orders fell off, Turner Industries in Paris announced a massive layoff to take place in June. The Paris Economic Development Corp., after some turmoil among board members, provided a $400,000 incentive for the company to keep about 50 jobs so it could quickly resume operations when demand returned. Turner brought back more than 300 workers after receiving an order from a new client, but laid off more than 100 in December when demand fell again.
Public entities, such as the Lamar County Commissioners' Court, resumed in-person meetings with physical distancing, mask wearing and crowd limitation requirements.
Area urgent care centers and pharmacies offered the public Covid-19 testing, and help came from the state's mobile testing team.
As financial difficulties for businesses continued into July, the Lamar County Chamber of Commerce began offering members up to $1,000 for utility and rent assistance. More than 96,000 Texans applied for jobless relief in the first week of the month. In total, nearly 2.7 million Texans had filed claims since the pandemic began.
On July 6, the State Fair of Texas announced it would not open for 2020 because of Covid-19. It was the first time since World War II that the State Fair of Texas did not open.
Education officials spent July figuring out how the 2020-21 school year would work. School administrators were tasked with developing synchronous and asynchronous education plans while ordering enough technology to provide students with Wi-Fi hotspots and laptops. The TEA issued guidance one day, only to reverse course days — or at times hours — later. It was eventually determined schools would offer remote and in-person learning options.
By mid-month, Paris Regional Medical Center officials announced the hospital was treating an average 10 to 15 patients daily. On July 12, the health care center was operating 12 of its 16 potential ICU beds with Covid ICU patients making up 70%, CEO Steve Hyde said.
"While we have seen an increase in positive cases in the county, we have not been overwhelmed with Covid patients at PRMC thus far," Hyde said.
Hospitalizations were complicated by the fact that Covid-19 patients required nearly twice as much time in the hospital as other patients. The hospital's chief medical officer, Dr. Amanda Green, in mid-July said the hospital was using the latest treatments for patients, including the antiviral drug Remdesivir and convalescent plasma.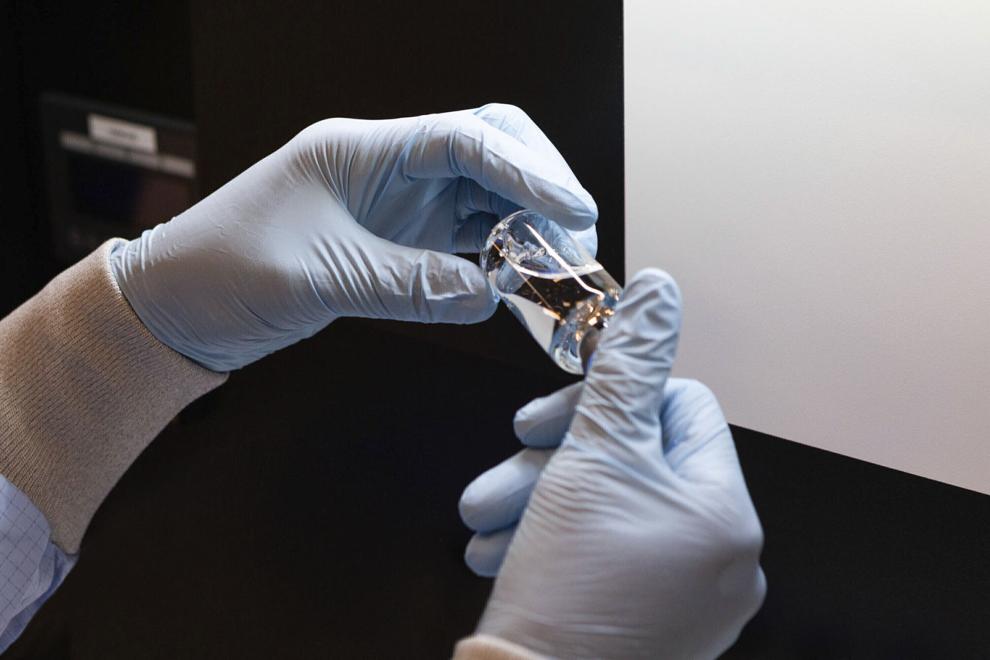 "It's not a quick cure," Green said of Remdesivir, adding more than 20 patients had received the drug. "It's not an antibiotic like you take for pneumonia and it kills the bacteria, but it does help the symptoms get better quicker, kind of like Tamiflu does if you get it early enough."
In late July, the Trump administration announced it would pay Pfizer nearly $2 billion for a December delivery of 100 million doses of its Covid-19 vaccine then under development.
August was marked by the return of in-person events and school. The Red River Valley Fair went on as planned, as did an annual fundraiser for Tailored Rides. Annual school supply drives took place as well. While some school districts opted not to return to school until early September, mostly in Lamar County, others opted to return in August. That included Cooper ISD in Delta County, where there were no known active cases at the time. Cooper students returned Aug. 13, followed by Detroit ISD on Aug. 21, Prairiland and Chisum students on Aug. 24, Rivercrest ISD on Aug. 28, Honey Grove ISD on Sept. 2, and Paris, North Lamar and Clarksville ISDs on Sept. 8.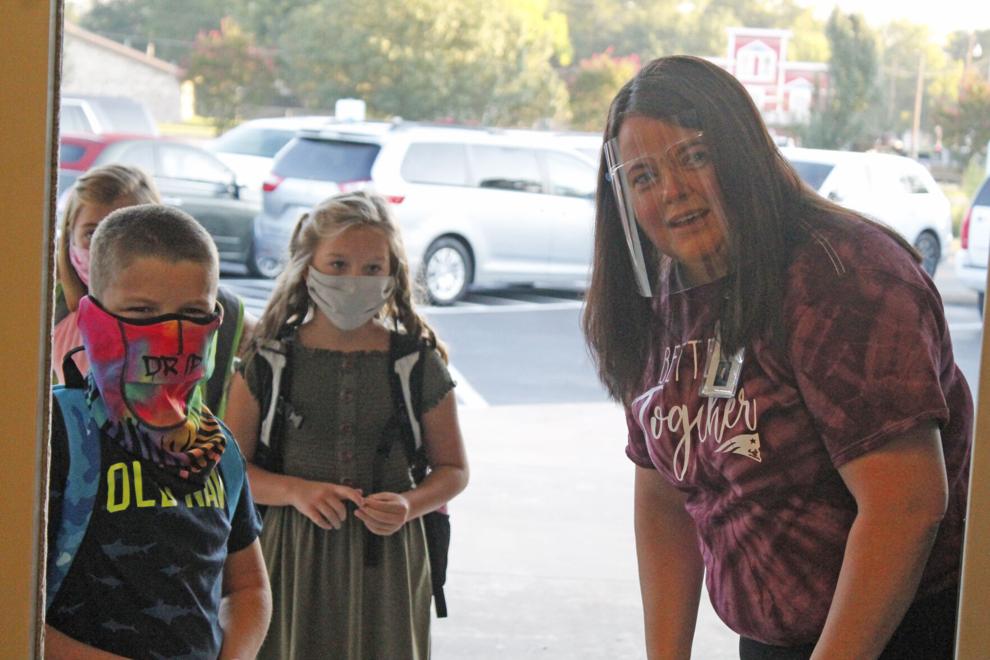 Falling into the swing of things
Prairiland ISD became the first school district to report a case of Covid-19 among staff or students, reporting on Sept. 2 that a Prairiland Junior High School teacher was quarantined after a positive test result. By the end of the month, nearly all local school districts were reporting cases among either students or staff, prompting at times entire classes to be quarantined. School district custodians picked up extra sanitization protocols in schools and on buses.
The UIL issued guidelines for fall sports, much to the relief of student athletes and local high school football fans. Football coaches entered the season with hopes to play at least two games, and although sporadic outbreaks at their own or their opponents' schools canceled a few games, most teams played complete seasons. School administrators used what they learned from the football season to move forward with basketball and volleyball seasons. Changes included smaller audiences and mask wearing.
With flu season on the horizon, government and health officials began urging the public to get their flu shots early.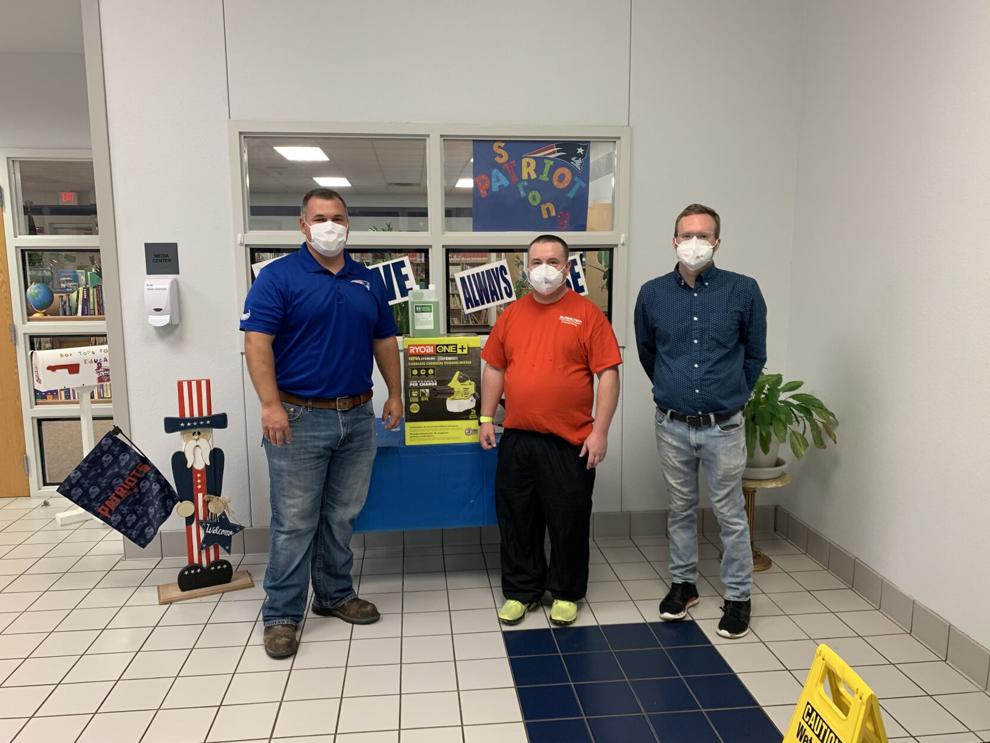 State and local governments started scrambling to spend their allotments of federal CARES Act funds, which came with a stipulation that 75% be spent directly on the pandemic in order to access 25% for discretionary spending. Deport spent some of its funds on three chemical foggers and disinfectants for its elementary school. Spending in Fannin County, settled on in October, included renting The Majestic movie theater to act as a temporary district court.
By the end of September, there were 1,262 total confirmed Covid-19 cases in Lamar County with 196 active cases and 32 deaths. The number of statewide cases had increased from 612,969 to 739,743, and more than 15,500 Texas deaths were Covid-19 related. Nationally, more than 7.1 million Americans had contracted the virus, leading to 204,995 deaths.
Those numbers continued to rise in October, however, life was largely status quo for the month. Most parents had become accustomed to random, and at times frequent, school notifications of Covid-19 cases on campus, and most people attending in-person meetings or events were accustomed to wearing masks.
The state's hospitalization rate fell in October, prompting Abbott to tease the reopening of bars and further relaxing of business restrictions. On Abbott's earlier order, early voting for the presidential election opened Oct. 13, one week earlier than usual to accommodate an expected larger turnout while maintaining physical distancing. The Red River Valley went on to have a record turnout, overwhelmingly voting for Trump and other down-ticket Republicans.
By mid-month, Covid-19 had claimed 38 Lamar County lives, including long-time banker and community leader, Philip Ridley Cecil.
Also by mid-month, Abbott allowed bars to reopen, much to the relief of Time Flies bartender Loren Lamb.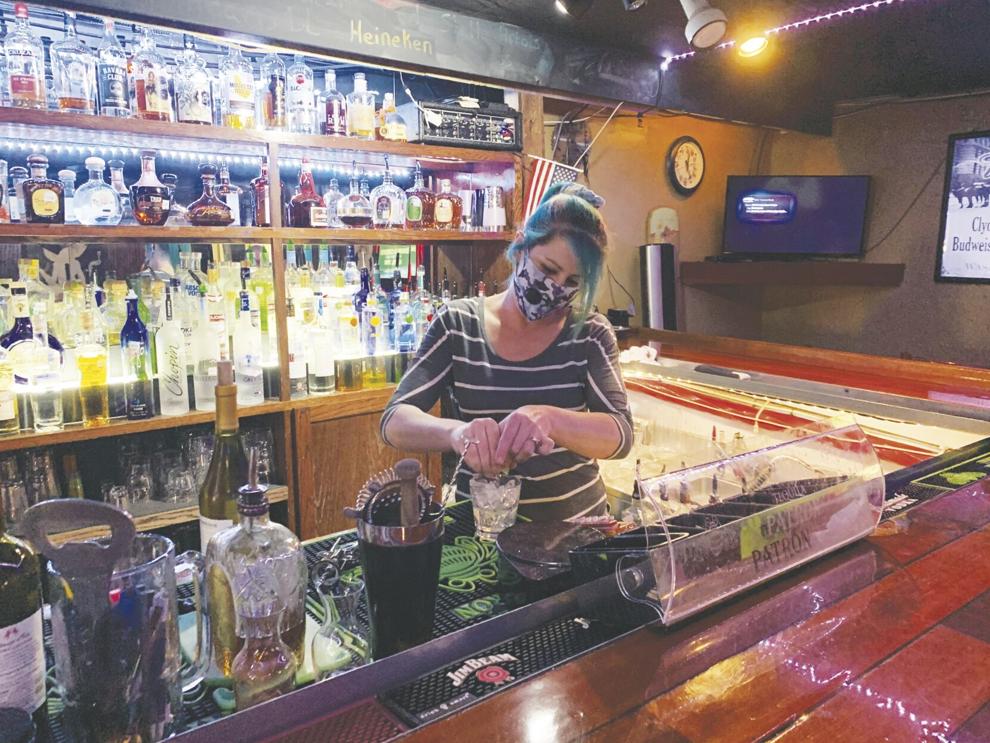 "I'm happy to be back. It's been wonderful. The moment I walked back in, I was just like, 'This is home,'" Lamb said.
Halloween was only slightly different, with some areas offering reverse trick-or-treating, in which trick-or-treaters were driven past stationary set-ups, or trick-or-treating in large open outdoor areas.
Winter surge
While parts of Texas experienced Covid-19 surges throughout the year, particularly urban areas like Dallas, El Paso, San Antonio and Houston, there wasn't a surge in Lamar County until November. Confirmed cases increased from 1,920 to 2,675 during the month, while active cases jumped from 194 to 536. Fifteen more county residents lost their lives to Covid-19, according to the Paris-Lamar County Health District.
The numbers didn't look much better for the state or the nation. Texas total cases rose from 900,596 to 1,147,045 and fatalities rose from 18,024 to 21,207. Nationally, case counts rose from just under 9.1 million to more than 13.15 million. The number of deaths increased from 230,194 to 265,146.
The surge prompted government officials to plead with the public to steadfastly follow CDC guidelines, especially for wearing masks and cleaning hands. Fannin County Judge Randy Moore continuously urged mask wearing, acknowledging how unpopular they were but saying the county was "desperately hurting."
Paris Regional Medical Center scaled back its visitor policy, and Dr. Green began making videos to share with the public the toll the virus was taking on staff and the facility.
"The increase of deaths is emotionally draining, especially when they are watching community members that they know die," Green said of the staff, adding the hospital's ICU was at full capacity.
Green also acknowledged other area hospitals had reached capacity where they couldn't accept transfers, and PRMC was having difficulty doing the same. She added the hospital was in line to get doses of bamlanivimab, an antibody medication shown to prevent hospitalization for people who have tested positive for the coronavirus.
Determined not to add to the spread, Detroit and Clarksville ISDs announced they would be closed the week after Thanksgiving break. Detroit students received an extra week of break while Clarksville students fell back on virtual learning.
The week after Thanksgiving into the start of December was make or break for Red River Valley businesses as the hospitalization rate shot above 15%, the threshold set by Abbott's executive order that would close bars and force businesses to roll back capacity to 50%. Those restrictions took effect on Dec. 4 in Fannin County, which is in Trauma Service Area E with the Dallas-Fort Worth metroplex, after the rate remained above 15% for seven consecutive days. In order for the restriction to relax, the TSA must fall below the 15% rate for seven consecutive days. On Wednesday, the rate remained high at 23.09%, according to the state health department.
Lamar, Delta and Red River counties nearly fell under the same restriction after the hospitalization rate stayed above 15% for five consecutive days. On the sixth day, there was dramatic drop from 16.32% to 13.79%, resetting the clock. Since then, the TSA has flirted with the threshold. Wednesday was the fourth consecutive day the TSA was at or above 15% hospitalization rate. The only day to fall below that threshold in the past seven was Saturday when the rate dipped to 14.95%.
Health officials expect cases to surge in January as a result of Christmas and New Year's holiday travels. They also are watching a more contagious variant of Covid-19, originally found in the U.K., but also found in Colorado and California.
Still, December is seen as a turning point in the pandemic as Pfizer and Moderna delivered their vaccines. Phase I of the vaccine rollout allowed for high-risk front line workers to get vaccinated, followed by high-risk populations and later the general public. The vaccines are expected to provide protection against the new variant. Paris Regional Medical Center officials on Monday said the hospital received its initial allotment of vaccines and distribution had begun.
Financial help also was on the horizon after Congress reached a bipartisan agreement and Trump signed off on the measure. The bill pumped more money into the PPP program for businesses, provided $600 per adult and child for those making less than $75,000 and maintained an extra $300 per week for the unemployed.
By the end of the year, there were 4,179 Covid-19 cases confirmed in Lamar County and 77 related deaths. Active cases jumped by the hundreds to 838. The large majority of cases, 3,038, were considered recovered. Similar numbers were seen throughout the Red River Valley, but no other county was as hard hit as Lamar. Fannin had 1,854 total cases and 51 deaths. Red River had 436 total cases and 25 deaths. Delta had just 143 total cases and three deaths.
Statewide, there had been more than 1.73 million total cases and 27,088 deaths. There had been more than 19.74 million cases in the U.S. and 342,414 related deaths. Nationwide, more than 11.99 million cases were considered recovered.