Another blast of frigid arctic air is expected to help fuel a snowstorm today and Monday that could produce up to 7 inches of snow in some areas, according to the National Weather Service. With temperatures falling into the single digits and wind chills dipping into the negatives, meteorologists have warned of potentially life threatening conditions since Friday.
The National Weather Service has issued a Winter Storm Warning for all Red River Valley counties in effect from 6 a.m. Saturday through 6 p.m. Monday, Meteorologists warned freezing drizzle could start as early as Saturday morning, with a brief afternoon break followed by deteriorating conditions. By Saturday night, any precipitation was expected to be a mix of sleet and freezing rain. The mix was expected to become snow today, with the heaviest snowfall in the region happening overnight into
"High winds will lead to blowing and drifting snow with wind chills falling to below zero by late Sunday. Snow will come to an end during the day Monday, but extremely cold temperatures will persist through mid-week," the NWS warned. "The heavy snow and forecast long duration of extremely cold temperatures will likely lead to major stress on the region's infrastructure as well as crippling travel for several days."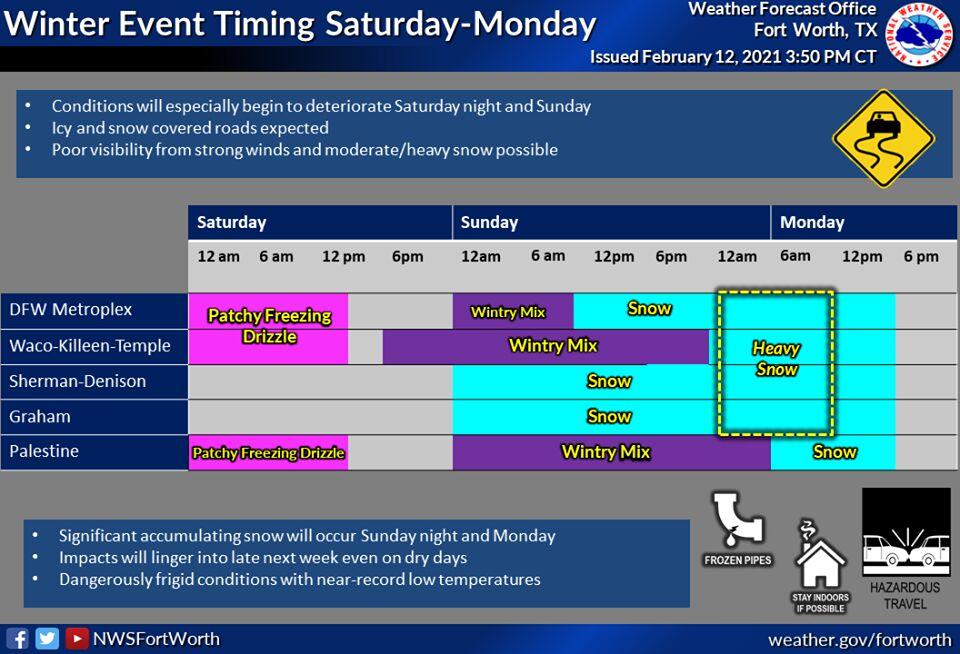 Temperatures have already been dangerously low with overcast skies Friday and Saturday keeping the high to no more than 25 degrees. Wind chill further cooled the air, making it feel like 14 degrees. Any sitting water on roads is already ice, and it will stay that way unless treated with brine through at least Wednesday, the first day in the forecast the high will get close to 32 degrees. NWS meteorologists warned bridges and overpasses in areas with freezing drizzle were likely to develop a thin glaze of ice ahead of today's storm. Motorists are asked to give themselves extra time to get to their destination.
"As we saw with the tragedy in Fort Worth on Thursday, even slight accumulations can cause major impacts. In addition, with temperatures staying below freezing, this new ice accumulation will be on top of any ice that is already present," NWS meteorologist Jason Godwin wrote in forecast discussion.
On Sunday and into Monday, heavy and blowing snow are possible. Chances will increase from 40% to 90% with possible snow accumulations of 3 to 7 inches. Travel could become difficult and life threatening, the NWS warned. With daily highs of 25 degrees or less, cold wind chills as low as 15 below zero could result in hypothermia if precautions are not taken, Godwin wrote.
"Regardless of how much snow is received, the bigger threat will be the extreme cold we are expecting on the heels of the system. Ongoing sub-freezing temperatures will plunge even further as another surge of arctic air arrives. Single-digit low temperatures begin Monday morning for the northwest half of the forecast area with teens across the southeast. North winds of 15 to 25 mph will produce below-zero wind chills across most of the area, with single digits elsewhere. Snow pack will keep Monday high
temperatures in the teens, with Monday night lows in the single digits area-wide," he wrote.
"Protection of people, pets, and pipes will be crucial during this period."