HONEY GROVE — Tyler residents Nita Meads and her 95-year-old father, Truman Hawkins, weren't planning much of a trip back to Honey Grove. They just had plans to lay a wreath at Oakwood Cemetery and grab a quick bite to eat at the deli.
But at lunch, they ran into several football coaches from Honey Grove ISD — the same high school Hawkins graduated from more than 70 years ago. The same high school whose football team he led to district championships as a team captain.
"How's the football team?" Meads asked them.
"Undefeated," they replied.
A short drive later, Hawkins was back on the field he played on many times throughout high school. A guest of honor, he received a tour of the school's new turf field and facilities — a sight very different from the grass sod they used to play on, he said.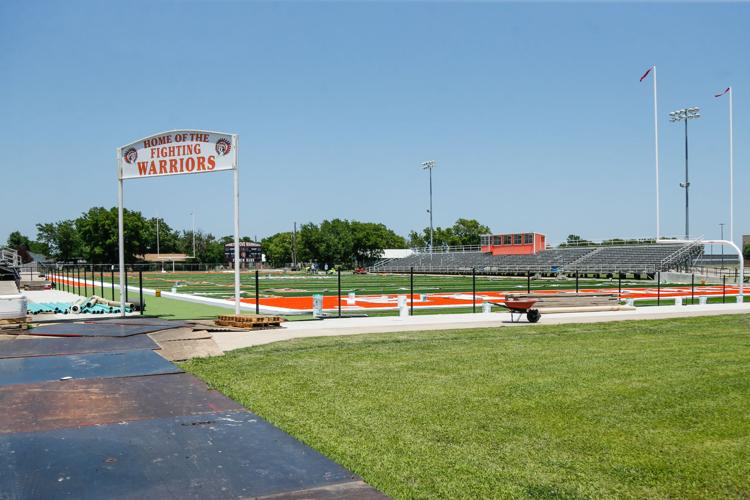 "It was a great remembrance," he said. "The artificial turf looks real nice."
After a tour of the school and field, Hawkins visited the administration building, where the staff still had his old student records and photograph. Hawkins also discovered he had distant relatives working in the district, including Superintendent Todd Morrison.
"We had a lot of old memories to share," Hawkins said.
Hawkins was born in Arkansas in 1924. His family moved to Texas in 1928 and settled on a farm northeast of Honey Grove, he said. He, his four brothers and one sister worked hard on their farm, raising cotton, corn, grain and a few livestock. During harvest seasons, he would sometimes skip school and football practice to help in the fields.
But all Hawkins wanted to do was play football, he said. He played all throughout high school and led a team of boys he described as "Hardworking farm boys. Husky."
"Did you enjoy playing football?" Meads asked him.
"You bet," Hawkins replied. "We had a wonderful time together."
Hawkins attended Honey Grove while the high school was under construction. A total of 800 to 1,000 students, he remembered having study hall in an old gym downtown, in a vacant building on 6th Street across from City Hall. He remembered walking from building to building for class throughout downtown. He remembered changing for football in the old field house, all the players packed tight and freezing cold.
History and penmanship were his favorite subjects at school. His penmanship teacher, Annie Beason, taught him to use his arm muscles instead of his fingers when writing. Hawkins attributed his timeless writing skills to her teaching.
Hawkins had plans to attend college on a football scholarship, but he was drafted to the Army during World War II, where he served as a sergeant and trained troops. Before he could be shipped overseas, his brother, Kellow, was killed in the D-Day invasion in Normandy, enacting the sole-survivor policy. Passed by Congress in 1948, the law exempted lone remaining sons from action when one or more children had died as a result of military service.
After the war, Hawkins married his wife, Ila Jane, and worked at Lone Star Gas Co. as regional supervisor until his retirement. A resident of Tyler, he is now "Joe-Joe" to 10 great-grandchildren, and in Meads' words, "He is very loved."