Protracted is one way to put the process of repairing the roof of the Lamar County Courthouse. Costly is another.
Since the courthouse was rededicated following a renovation in 2005, leaks have been a persistent problem, causing major damage to the upper floor of the building, particularly in District Clerk Shawntel Golden's office.
"My office ceiling has suffered significant damage," Golden told The Paris News in March. "I've had to cover things up and put trash cans all over the place. Water just poured in."
Following several recent Lamar County Commissioners meetings, a representative from the Texas Historical Commission paid a visit to Paris to examine the issues on the roof. James Malanaphy, an architect and project reviewer on the Texas Historic Courthouse Preservation Program, spent time on the scenic roof of the historic building with commissioners Kevin Anderson and Ronnie Bass along with County Judge Brandon Bell and maintenance director Kerry Washington in an attempt to find problem areas and review potential fixes.
The Lamar County Courthouse is registered not only as a historic courthouse, but is also a "state antiquities landmark." Those designations mean that any significant projects need to be approved by a THC representative like Malanaphy.
"Any project that's not not simply routine maintenance needs to have a permit to be permitted," Malanaphy said. "The county judge needs to send a permit application and Texas Historical Courthouse Program staff like myself will review the application to see that it doesn't have a harmful effect on the historic integrity of the building."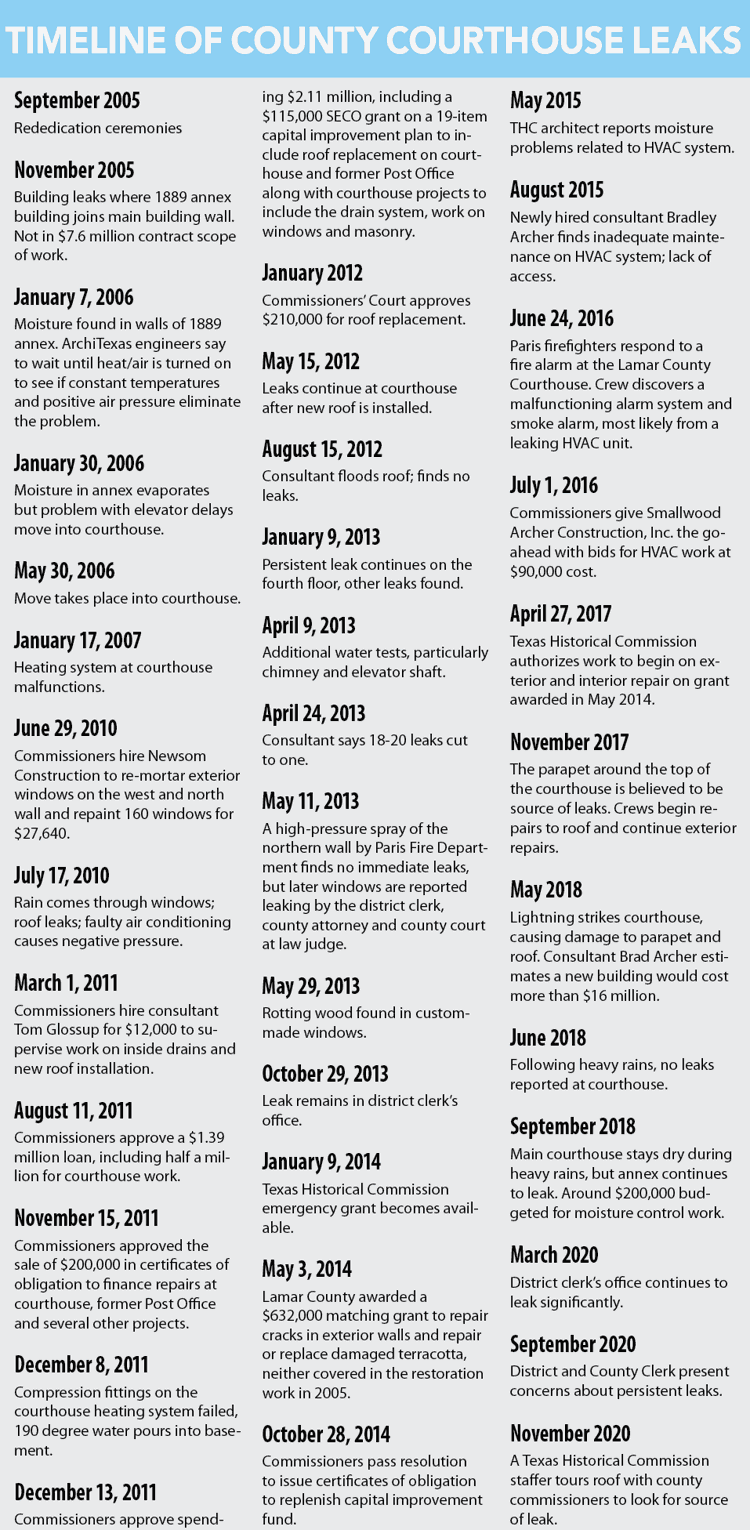 While the county did get approval for the roof to be replaced in 2012, leaks continued mere months after installation and eight years later, those leaks haven't improved. Malanaphy said those repairs should be promptly fixed to ensure the courthouse doesn't suffer even more damage, but that more extensive work would require the county to apply for permits.
"Obviously, there's some emergency work that needs to be done to try to stop the leak whenever it rains. And the clerk's office is suffering damage immediately afterwards. That falls under the category of emergency or routine maintenance, but replacing the entire roof will need to be permitted," Malanaphy said.
During the tour of the roof, a representative from a local construction company suggested using a spray foam to seal small holes on the courthouse roof. Bass said the damage was due to lightning that struck the courthouse's parapet in May 2018, but Malanaphy asked for more information regarding the product that would be used to determine compliance and efficacy.
"Not only does appearance get to be a consideration, but also performance and quality," he said.
For now, it's up to the commissioners to decide the course of action they'd like to take for immediate repairs and then, if they decide to try and move ahead with a complete roof replacement, they'll have to consult with Malanaphy and submit an official application. More than two commissioners are not allowed to be in the same room together in an official capacity, so a decision must be made in a public meeting. Bell said the commissioners are doing their best to stymie any more damage that may occur, as well as improve the worsening conditions in Golden's office.
"It's an old building. It's lasted a long time and it's going to last a lot longer, but it does require ongoing maintenance," Malanaphy said.