The North Lamar soccer team took care of business Tuesday night as the Panthers blew out the Atlanta Rabbits 10-0 in a cold and muddy R.L. Maddox Stadium.
Eleven minutes into the game, junior midfielder Favi Morales belted a long shot into the goal, followed two minutes later by a shot by senior forward Pablo Peralta. There was no stopping the Panthers as the team dominated play and kept the ball on Atlanta's end of the field throughout much of the half.
Morales would follow with a walk-in shot with 9:40 left on the clock and four minutes later with a header. The Panthers were up by 4 at the half.
During the break, second-year coach Jon Rea warned his players about getting complacent.
"Play your speed and don't let them cause you to get lazy," Rea said. "Respect the game, stay tough on defense and crisp on offense. Talk, communicate and widen up the field."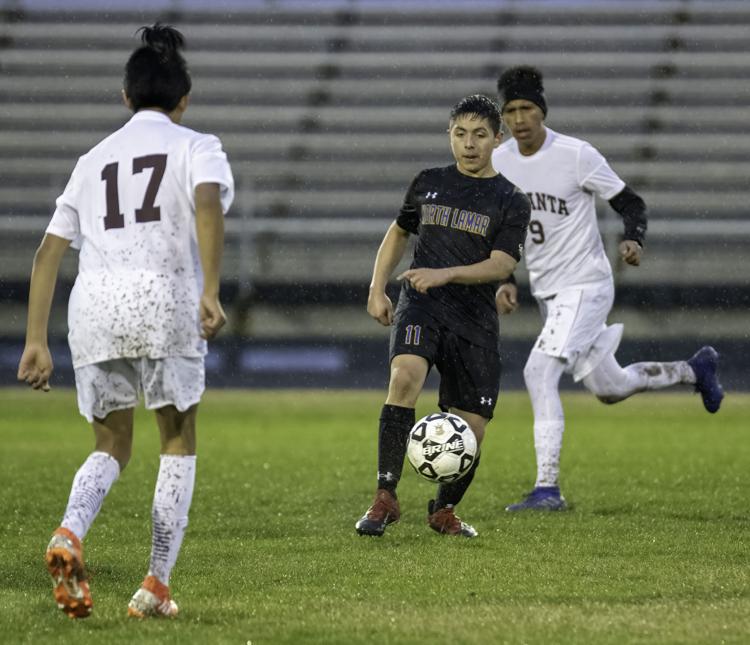 The Panthers listened, and then returned to the second 40-minute period with more of the same.
Peralto added two points, junior midfielder/forward Paulo Venegas tagged on another along with sophomore midfielder/forward Juan Gallegos. Junior midfielder Alex Nava ran the score to 10 first with a shot with 10 minutes left in the game, then followed it with another with three minutes left.
"My passion is soccer and this game was a lot of fun," Morales said after the game. "We've got some harder games facing us, but I think we will be ready when the time comes."
After the game, Rea complimented his players for staying focused.
"In a game like this, the challenge is to stay focused and implement things we work on in practice," Rea said. "I think they did a very good job working on things we have been trying to work on and improve on to prepare us for games on down the road."
With an overall record of 7-4-3, the Panthers are 2-0 in district play heading into a game Friday night in Pittsburg.
"Pittsburg is a pretty solid team with a lot of success this season," Rea said. "I am looking forward to the challenge, and I think the guys are too."